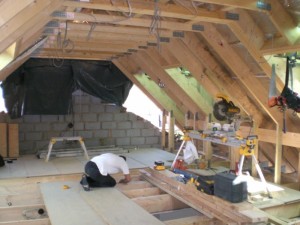 Professional loft conversion services in Beckenham, SE20 provided by HomeMates. Increase the living area of your house with our loft conversion service. Call now!
If you need professional loft conversion you can count on our team of qualified architects, builders, plumbers, electricians, roofers and carpenters. They can convert your loft into the rooms you need most in your house or commercial property.
You can have an extra bedroom with an en suite, playroom, study or other room of your choice. Our conversion specialists have experience implementing dormer, Velux, hip-to-gable, mansard loft conversion and a combination of some of these types.
Contact HomeMates at 020 3745 4377 or at info@homemates.co.uk.
Building Services Prices
The prices can vary greatly depending on the size of the property and materials used. We strongly recommend to fill in the form or call us for a free quote.
Loft Conversion in Beckenham from HomeMates
Our loft conversion services will extend your home and property for rent with additional rooms. They involve:
Planning your project and discussing the preferences which each customer has
Applying for permission from the local authorities
Using a scaffolding for our work and minimal disturbance during the conversion process
Making structural changes in the loft and roof, whenever it is necessary
Installation of plumbing and electrical appliances
Insulating, plastering and decorating the new rooms
Creating and implementing the room design each customer wants
Using high-quality building materials
Dormer, Velux, hip-to-gable and mansard types of loft conversion, available
Here is a list of all the services we provide in Beckenham
Your project will be done in such a way that it corresponds to your initial idea and all your requirements. We offer our services in and near Beckenham SE20. Use them to extend your living space and make your property more luxurious.
Loft Conversion Services in Beckenham SE20
After understanding the ideas and desires you have about converting your loft, we will send an architect to inspect your place, make measurements and offer you the most suitable options for conversion. He will plan your project and make drawings or graphics of it. After they are approved by the customer and the local authorities, we will arrange a date and time, convenient to the customer to start work.
Your loft will have the facilities you need in it, including electricity, functioning bathroom, electrical appliances and fitted furniture. Use our loft conversion services if your domestic or commercial property is located in Beckenham SE20 and you want to have your loft converted by real professionals.
Our team of loft conversion specialists will make your loft suitable for living. They can install dormer windows, which provide necessary natural light during the day, as well as fit blinds on them. You can order dormer, hip-to-gable, Velux, mansard loft conversion or a combination of some of these types. Our company operates in Beckenham SE20 and is ready to accomplish your loft conversion project according to your preferences and ideas.