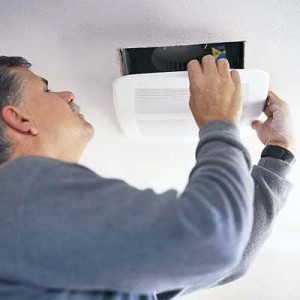 The repairing of the bathroom fan is a part of the electrician handyman services of HomeMates. Our professionals are completely prepared to tackle every problem that might appear in your fan. Depending on the model of the device and the damage it is experiencing, our handymen will prepare the necessary instruments and will come to your real estate property where you will go through the usual process for determining the cause for the failure.
Bathroom fans are an important part of the household. They prevent mold and mildew growing on the walls of your bathroom. SInce the levels of moisture in your bathroom are very high, it is of crucial importance that the fan is properly working and able to move moist air out of the room. Malfunction of the bathroom fan can cause condensation to form repeatedly on the bathroom walls. This may lead to various issues such as: streaking on walls, paint bubbling up and separating from the surface of the wall and worst of all- causing mold to grow all over your bathroom walls. Do not worry if you are experiencing some issues with your bathroom fan. Our professional technicians can handle any problem with ease.
Firstly, it is very important to determine the exact issue your fan is experiencing. As you can see below, there are several different malfunctions that can be causing your fan to not work properly. Our technicians are able to do that and determine what would be the best approach for the particular case. Depending on the issue, there might be a part that needs changing, pipes to be cleaned or in case your fan is beyond repair, a replacement to be made.
Diagnosing the problem*
The first step of the repairing process of your bath fan will be the inspection of the device. That way our employees will be able to isolate the problem and to move on to fixing it quickly. No matter if your fan has been making unusual noises or if it has stopped working at all, our professionals will take it apart and examine every section for malfunction. All employees come prepared with all tools and equipment that might be useful in any situation.
Repairing or replacing broken parts
Once the problem is stated, our experts will first try to save the broken part if it's possible. A lighter problem like a loose or disconnected wire they will be able to fix on the spot. If there is a more serious damage to the motor, for example, our workers will track down the number of the particular model and will find you a new one. If you know the exact issue your fan is experiencing, feel free to tell us prior to the service. That way we will know the model of your fan and will come prepared with the part that needs replacing.
Installation of a new fan
In case of permanent damage, our experienced handyman will directly provide you with a brand new bathroom fan. According to the location and model of the old one, they will install the new fan as fast as possible. In case you would like to try a newer type which has a different size and characteristics, you can tell our employees and they will do the necessary improvements for the installation of the new model.
*The most common problems, occurring in a bath fan are:
Dead motor or dead switch
Dirty fan housing or failing blower wheel
Vent pipe problems
So do not hesitate and give us a call. Bathroom fan malfunction should not be overlooked since it might cause a number of problems:
Mold and mildew growing on the walls
Damp spots on the wall and ceiling
Condensation or frost on windows
Peeling paint on the walls
Unpleasant smell in your bathroom
Also, be sure that all handymen on our team are extreme professionals. Here are some of the best qualities they bring along:
Experienced: All our handymen arrive with a lot of experience and knowledge. From general labor to home repair and odd jobs, the technician will have the know-how to make your place looking brand new. Along with their long experience the handymen will bring all the tools required to get the job done. All you have to do is give us some details on the job in hand and a member of our team will arrive and do it in no time.
Skilled and Capable: We ensure that all our handymen are rated and reviewed by previous customers. The different jobs around a house require a different approach so all our employees specialise in different areas of the handyman service. Whenever you give us some information about your particular situation, we will make sure to send the right person for it.
Reliable: You want to be able to trust the handyman that will be working on your house. We make sure all of them are fully qualified, reliable and punctual. You can be sure that they will arrive on time and do the job quickly and efficiently. Rest assured they will provide the best possible results without causing any damage to your property.
Flexible: Doing all kinds of jobs has made our handymen quite adaptable. It is hard to know all the details around a particular job, so it is convenient that the person performing the service will be able to help you, no matter what. All our technicians' skills will suit your needs as well as your budget.
You may consider combining our bath fan repair service with the rest of our services such as Odd Jobs, Furniture Assembly and Fit Binds and Curtains.
Frequently Asked Questions
How long does the fan repair take?

Depending on the problem that you have, repairing your bathroom fan might take anywhere between 2 and 5 hours. Keep in mind that if your fan cannot be fixed and needs replacing, you might have to wait a day or two for the new fan to arrive and be installed.

Should I replace my bathroom fan regularly?

If nothing is wrong with your bathroom fan you don't have to replace it so often. However, it is recommended that a fan is changed every 10 years. This provides good results and you can rest assured your bathroom fan is doing its job.

How do I know if a new fan is needed?

You might need to replace your bathroom fan even if it is still working. You might look for the following signs:

It is much louder than before
Moisture is taking over your bathroom
There are unpleasant, stubborn odours
It has exceeded its lifespan
Jackie Paul:
" The fan in my bathroom was working but not really getting rid of all the moisture inside. I called Home Mates and they sent a guy the very next day. He examined my fan and explained what is wrong and what can be done in order to fix it. He finished the job in less than two hours. Very happy with the service, would certainly use it again."
Michele Rolle:
"I considered attempting to fix my fan by myself but my wife convinced me it is not the best idea out there. We found this company on the internet and booked a fan repair service. Everything was done quickly and efficiently and our bathroom feels fresh again. Thank you so much! Keep up the good job guys!"
You can call us on 020 3745 4377 or email us at info@homemates.co.uk.