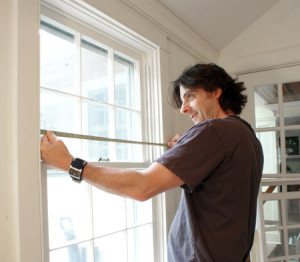 If you've decided to put some new blinds or curtains in your home or office, or simply to replace the old ones with new, HomeMates can send professionals to do that for you. Our employees will come to your home and prepare the particular space for the installation by using specific instruments. The fitting of custom-made blinds and curtains will be performed quickly on the spot but in case they don't match, our handymen will adjust them to answer the measures of your particular domestic environment.
The hanging of curtains and blinds has many detailed aspects that a regular person is simply not familiar with. Situating them properly, measuring the exact distance between the curtain rail and the window and many other details are crucial to the best looks of your blinds and curtains. Trust our handymen with the hanging of those in your home and they will now disappoint. They have long experience of fitting and hanging curtains so they will provide the ultimate service to you in no time.
You have the option to combine our 'fit binds and curtains' service with the rest of our handyman services like Odd Jobs, Furniture Assembly and Repair Bath Fan.
The Blinds

If you've already chosen and purchased the type of blinds for your property, our professionals will come and install them immediately. Whether they are Venetian, Bamboo, Roller or Vertical models, the fitting won't be a problem for our handymen. The first step is to decide on which side of the windows you want them to be placed. After that our employees will measure the length and width of the space to establish the best way for situating them. To make sure that they fit perfectly to your windows, the experts can bring in some corrections before putting them up.

The Curtains

For the curtains you have to choose previously whether they will be of the pencil pleat model or from the ones with chrome ring or slot top, so that our employees can prepare the proper tools for the fitting. After taking the measures follows the attachment of the pole or curtain track with brackets to the wall. Depending on your requirements they can be located closer or further from the window to achieve the desired length of the curtains. Next will be installing the hooks and finally the curtains will be hung up.
You are free to select whichever model of curtains or blinds you want, our handymen are experienced enough and will be able to install them on any type of windows, regardless of the location or size.
Along with having your curtains and blinds hung and fitted, by hiring us you also receive:
Quick quote
Step by step assessment
Free advice for installation and repair
Materials provided
Quick installation
Hassle free end job cleaning
Reasonable pricing
Customer service available at all times
Having good curtains and/or blinds in your rooms is beneficial in many ways. It does not only provide privacy at home, but also saves energy by controlling the temperature in a room. Not to mention that good curtains can be a statement piece to any interior. Fitting and hanging those is our speciality. We have been doing that for many years now and our professional technicians know all the secrets to perfection. The curtain hanging technicians will take the measurements and pay attention to all other details that should be taken into consideration. It is important to correctly center the rails and hang the curtains or blinds evenly. There are a few hanging options you can choose from – hanging pole, curtain tracks and ties back.
Keep the sun out, add a finishing touch to your home interior or even increase the value of your property. Adding shutters or blinds to your room can benefit you in many ways, however, installing them is not such an easy task. Fortunately, our technicians can do just that. They come with all tools and equipment needed to properly fit and install your shutters. It also does not matter what kind of shutters or blinds you chose to have. We can work with:
Exterior shutters
Plantation shutters
Faux Wood Shutters
Slat shutters
Venetian blinds
Metal blinds
Plastic blinds
Micro Blinds
Vertical blinds
Also, be sure that all handymen on our team are extreme professionals. Here are some of the best qualities they bring along:
Experienced: All our handymen arrive with a lot of experience and knowledge. From general labor to home repair and odd jobs, the technician will have the know-how to make your place looking brand new. Along with their long experience the handymen will bring all the tools required to get the job done. All you have to do is give us some details on the job in hand and a member of our team will arrive and do it in no time.
Skilled and Capable: We ensure that all our handymen are rated and reviewed by previous customers. The different jobs around a house require a different approach so all our employees specialise in different areas of the handyman service. Whenever you give us some information about your particular situation, we will make sure to send the right person for it.
Reliable: You want to be able to trust the handyman that will be working on your house. We make sure all of them are fully qualified, reliable and punctual. You can be sure that they will arrive on time and do the job quickly and efficiently. Rest assured they will provide the best possible results without causing any damage to your property.
Flexible: Doing all kinds of jobs has made our handymen quite adaptable. It is hard to know all the details around a particular job, so it is convenient that the person performing the service will be able to help you, no matter what. All our technicians' skills will suit your needs as well as your budget.
You can call us on 020 3745 4377 or email us at info@homemates.co.uk.
Frequently Asked Questions
How long does the process take?

Usually it is a very quick and easy process. The time mainly depends on the number of hanging jobs in your home.

Can you choose my hanging poles and fixtures?

Absolutely, we can help you with this. Just make sure to call in advance so a member of our team pays you a visit to take measurements. After that they will send you pictures of different products so you can pick the one you like the most.

Do you dispose of rubbish after the service?

Yes, we always clean up after the job is finished.
Jana D.:
"Fantastic service! I am very pleased with my new shutters. The guys that came over did the job very quickly and cleaned up after themselves. I am very pleased since I can now block all sunlight in my bedroom and get a proper sleep. Recommend this company to anyone who needs help at home."
Simon Peters:
" I did some renovations recently, put in my new furniture and still something was missing. I realised I need some good curtains to go with the whole interior of my house. I called these guys immediately and they came over the very next day. Amazing job, very quick, very efficient, 10/10 service!"