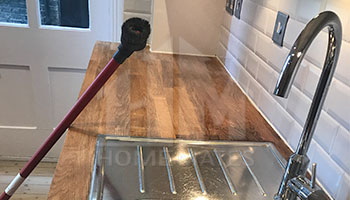 The deep cleaning service of HomeMates reveals the perfect opportunity for London residents to prepare their homes for the upcoming warm months. A lot of dust and dirt could have collected in your place during the winter and the deep cleaning will serve as a purification for your home. In this service will be included a whole package of various sanitizing procedures among which will be the dusting with specialized materials and solutions, the scrubbing of tiles and other hard surfaces, the washing of windows, the vacuuming of carpets and cleaning of upholstery and other furniture. We will guarantee the perfect look of every premise in your real estate property after which the whole residence will seem completely different to you.
Since the regular weekly cleaning that we do is often not enough to reach the cleanliness of the home we would like, deep cleaning is required at least once a year. It goes further to get rid of dirt, grime, soap scum and limescale in your house. It is able to make your home a healthier environment for you and your family members.
Booking the deep cleaning services of our promising company will be a great little investment in the health of your home. We have been a reliable cleaning provider for the whole city of London and the efficiency of our deep cleaning treatments has been confirmed by our customers countless times. The advantages of our fast-growing professional cleaning company over the others are:
the more flexible work schedule which allows you to reserve deep cleaning service even for the weekends and the holidays;
the lower and more affordable price rates which answer to the contemporary living standards of the city
the usage of detergents, washing products and machines without any chemical content;
the fact that in our agency are employed only highly experienced specialists which have been working in the cleaning sphere long enough
The hundreds testimonials of our clients on our deep cleaning, as well as on our end of tenancy cleaning, domestic cleaning, carpet cleaning, one off cleaning and home cleaning, can give you the necessary reassurance that we are the best, if you are still hesitating.
It is important to mention that the deep cleaning service is much more thorough than the regular house cleaning. It pays more attention to areas of the house that are not usually cleaned that often. Now is the time to say that when deep cleaning, we mainly focus on the kitchen and bathroom since they are the areas where most dirt and grime accumulate with time. The moist, warm atmosphere and all the food are the perfect environment for hosting all kinds of germs, bacteria and other unpleasant guests. This is why we provide all cleaners, performing the Deep Cleaning Service with thorough checklists. That way we make sure nothing has been missed.
Living room and Bedroom:
Remove cobwebs
Dust different surfaces starting from the highest ones
Wash the windows, mirrors and other glass surfaces
Give appliances a good clean
Remove mold and mildew
Vacuum carpets, rugs, cushions, curtains
Sweep and mop bare floors
Clean behind and under furniture
Wipe furniture, picture frames, knick-knackery, lampshades, light fittings, light fixtures and other small objects
Empty trash bins
Bathroom:
Empty trash bins
Clean toilet and its seat, remove limescale and disinfect
Clean behind and around the toilet
Remove cobwebs
Wash the windows, mirrors and other glass surfaces
Dust different surfaces, including shelves, drawers, etc.
Remove mold and mildew
Remove hard water stains, soap scum and limescale
Scrub all hard surfaces and disinfect them
Clean and polish sink and taps as well as shower taps, hose and head
Clean the drain
Kitchen:
Degrease all cooking area surfaces (stove top, counter top)
Clean sink and taps and disinfect them
Remove all rubbish
Dust and polish all shelves, and other surfaces from top to bottom
Declutter and clean all cupboards
Clean all appliances externally (internal cleaning is available upon request)
Disinfect table and chairs
Vacuum all upholstery and carpets
Mop and disinfect all floors
Remove mold and mildew
Reserving precisely this one of our various procedures can give you the guarantee and tranquility that you and your family will be living from now on in a thoroughly disinfected environment without any bacteria.
Also, be sure that all cleaners on our team are extreme professionals. Here are some of the best qualities they bring along:
Experienced: All our cleaners arrive with a lot of experience and knowledge. From end of tenancy cleaning to carpet and upholstery cleaning, the technicians will have the know-how to make your place looking brand new. Along with their long experience the cleaners will bring all the tools required to get the job done. All you have to do is give us some details on the job in hand and a member of our team will arrive and do it in no time.
Skilled and Capable: We ensure that all our cleaning technicians are rated and reviewed by previous customers. The different jobs around a house require a different approach so all our employees specialise in different areas of the cleaning service. Whenever you give us some information about your particular situation, we will make sure to send the right person for it.
Reliable: You want to be able to trust the cleaner that will be working on your house. We make sure all of them are fully qualified, reliable and punctual. You can be sure that they will arrive on time and do the job quickly and efficiently. Rest assured they will provide the best possible results without causing any damage to your property.
Flexible: Doing all kinds of jobs has made our cleaners quite adaptable. It is hard to know all the details around a particular job, so it is convenient that the person performing the service will be able to help you, no matter what. All our cleaning technicians' skills will suit your needs as well as your budget.
Ivaylo
mainly helps to our Customers to solve problems related to the cleaning needed after the builders.
Zaki
is one of the most valuable cleaners working for the company. Our pleased Customers say he is doing job that makes a difference.
Dida
is a hard worker who really loves her job and most probably that is what inspires the rest of her team to keep improving their skills.
Lubo
always exceed expectations and is specially trained to accomplish the exact service properly, deeply and professionally.
Deep Cleaning provided by professionals
E-mail us at info@homemates.co.uk or call us on 020 3745 4377 and our customer care team will gladly explain you even the smallest details about our cleaning services.
Frequently Asked Questions
Will my house be inspected after the deep cleaning session?

Yes, we provide a supervisor on site who also has the checklist for the particular job. He makes sure everything is done properly and all areas are covered.

What factors can affect the cost of the service?

We usually send a member of our team on site. This way he can give you an estimate about the price of your deep cleaning service. However, those are a few things that might add up to the initial price:

The size of the space that needs to be cleaned
The condition of the space (it will cost more to clean extremely dirty places)
Pets in the house

Can I be away when the cleaning takes place?

Yes, feel free to go enjoy your free time and leave the cleaning to us. We only ask for access to the premises.

Are any of the detergents/chemicals you use toxic?

No. We work with the highest quality products on the market. They are extremely efficient when cleaning while being completely safe, non-toxic, biodegradable and children friendly.
Ellie Simons:
"This company's professional deep cleaning service quickly became the best service I have ever used. The cleaners worked so hard for a couple of hours and left the house spotless. I could not recognise the bathroom!"
Thomas Gibson:
"The most reliable deep cleaning service is delivered by this company. I have used it twice already and I loved the outcome both times. Every room was cleaned from top to bottom! The cleaners always come on time and do everything quickly and efficiently. I highly recommend it."