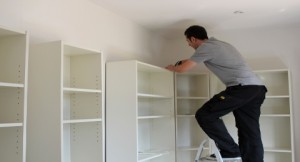 Did you recently move to a new place and are now wondering how to turn that big IKEA box into a fully formed sofa? If you don't own the full set of tools needed for this job, things might get serious. We all know the hassle of trying to figure out which part goes where and sometimes it can be simply frustrating. Do not worry because you don't have to do this alone anymore. We offer you our Furniture Assembly service.
This particular service can be used for any premise of your house as well as for any kind of furniture, regardless of the brand, material or size. All parts of your items will be assembled together and situated in the room you want and in the order you desire.
We want to save you the time, effort and money and help you upgrade your place with your new furniture. It is of no difference the kind of furniture or area you want the assembly to happen in. Our technicians are professionals and quite experienced. Here are some of the areas and types of furniture we can help you with.
Kitchen – The chairs and table will fit together, in order for you to receive the kitchen you've always wanted. We can also help you out with any cupboard or shelf mountings, kitchen racks and anything that might be found in a kitchen. The handymen employed at our agency can also install and mount some of your appliances. We give you the full kitchen service.
Bedroom – The night stands, bed frame and closets will be carefully assembled and double-checked for your safety. The place you will sleep in will also have well-arranged drawers and bookcases after the visit of our employees. It is important that you assemble your bed very carefully, since you will be spending every night on it. You have to make sure it is properly serviced.
Children's room – The comfort and safety of your children will be secured by our specialists. All furniture like desks, shelves, small or big beds, closets and drawers will be carefully put together and foolproof by our handymen. They can even take care of the things for your nursery like crib, high chair, diaper drawers and others.
The office – Your office will be ready to use very quickly after our handymen fit together the chairs, desks, cupboards and shelves and arrange them the way you like. They can also help you with installing your audio system, TV or computer.
The garden and the outdoor spaces – Some garden furniture require more specific tools and instruments for assembling which our experts can provide and use for their proper fitting. Any big or small chairs, tables, benches and even a gazebo will be put together efficiently and placed in your garden.
It doesn't matter what the brand of your furniture is or whether you bought it from IKEA or some other place because our employees are trained to work with any type of objects and materials. Because after all, we have all been there. You order a bunch of furniture and you know it will show up in a million little pieces. We doubt this is the ideal way to spend your Saturday – trying to fit strange parts to one another, keeping track of tiny screws and trying to follow an instruction manual that is far from easy. Our handymen have done that many times before. They have assembled thousands of Ikea furniture and do not even need the manual in most cases. They also come with all tools needed so you don't have to worry about that.
Also, be sure that all handymen on our team are extreme professionals. Here are some of the best qualities they bring along:
Experienced: All our handymen arrive with a lot of experience and knowledge. From general labor to home repair and odd jobs, the technician will have the know-how to make your place looking brand new. Along with their long experience the handymen will bring all the tools required to get the job done. All you have to do is give us some details on the job in hand and a member of our team will arrive and do it in no time.
Skilled and Capable: We ensure that all our handymen are rated and reviewed by previous customers. The different jobs around a house require a different approach so all our employees specialize in different areas of the handyman service. Whenever you give us some information about your particular situation, we will make sure to send the right person for it.
Reliable: You want to be able to trust the handyman that will be working on your house. We make sure all of them are fully qualified, reliable and punctual. You can be sure that they will arrive on time and do the job quickly and efficiently. Rest assured they will provide the best possible results without causing any damage to your property.
Flexible: Doing all kinds of jobs has made our handymen quite adaptable. It is hard to know all the details around a particular job, so it is convenient that the person performing the service will be able to help you, no matter what. All our technicians' skills will suit your needs as well as your budget.
Furniture Assembly Services From HomeMates
Table Assembly
Wardrobe Assembly
When you need furniture assembly it often happens to be in need some similar services like Odd Jobs, Fit Binds and Curtains and Repair Bath Fan.
Frequently Asked Questions
Do you dispose of furniture packaging after the service is done?

Yes ,we usually do that since most packaging is not hard to dispose of. For bigger boxes, please tell us prior to the service so we can arrange the proper disposal of it.

Can you help me with the delivery of my furniture?

Yes, we can also deliver your furniture from the shop/manufacturer to your home. For this additional service check our Man and Van service or simply ask your booking agent in advance.

Do I have to provide any tools or equipment?

No, all technicians arrive with everything needed for the particular task so you don't have to worry about that.

Do you recycle old furniture?

We do not. However, if you find a place that does this, we can offer you our Man and Van service that will help you dispose of your old furniture.
Jonah M:
"I always have struggled with assembling my furniture. I moved to a new place recently and I had to order a few new pieces of furniture for the house. They arrived with manuals on how to put them together but it was impossible for me to make it happen. I looked on the internet for professional handymen and I found these guys. Great service, they arrived on time, got on the job immediately and in less than 4 hours all new furniture was ready, the rubbish was disposed of and they didn't even use the manual…Very impressive, i totally recommend them!"
Sarah WIlliamson:
"My husband was not home on the day the furniture arrived. I decided to surprise him and booked Home Mates to help me with the furniture assembly. They were quick, efficient and did a great job with all the pieces in my home. I am very pleased with their work and I would love to hire them again in the future."
You can call us on 020 3745 4377 or email us at info@homemates.co.uk.