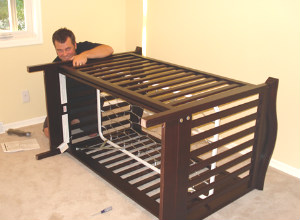 To provide real security and comfort for your baby, you can reserve the professional crib assembly services which our company has been offering for years. You won't have to burden yourself with reading of complicated instructions or spending a whole day trying to find the place of every little part from the box of the crib.
In addition to our vast variety of specialized furniture assembly services, we have created this one as well, so that our client are sure that the safety of their little ones is provided by professionals.
You can call us on 020 3745 4377 or email us at info@homemates.co.uk.
Our specialists will come to the address of you home, they will unpack and put together all parts from the model of the crib you have chosen for you child and they will do it promptly within only a couple of hours, so that you can start using it right away, if it is necessary. Our technicians are competent enough to work with various models which the modern market offers and some of them are the following ones:
Portable crib – This type of model can be very useful, if you live in a small apartment where the space is limited. The portable crib could not only fold but also fit into very small spaces and angles. Our specialists can assemble every part of this model very quickly and place it wherever you want.
Convertible – A crib like this is usually more complicated to assemble because of its special function to turn into various other things like a bed for toddlers, a bench and others, depending on your needs. With this model, our technicians will be able to help you effectively, as well.
Round crib – This is a more specific model in the form of a circle which doesn't require much work and when assembled together it can be very interesting.
Standard – The most common type of crib is easier to put together, so when you decide to call our specialists they will be ready in no time.
Eco crib – The professionals who work for our agency can handle the construction of the innovative Green cribs as well, which can be usually configured in several different ways.