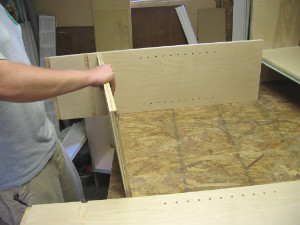 If you need a proper bookcase assembly, done by professional technicians, you can use our services. They can do the bookcase assembling that you need, using the appropriate tools, machines and having the necessary experience in the job. The bookcase installation we provide include these tasks:
You can call us on 020 3745 4377 or email us at info@homemates.co.uk.
Bookcase Assemlby Services from HomeMates
making a sketch with the installed bookcase
measuring the bookcase's front part to the centre of the supporting shelf, before nailing any of the bolts
removing the excess wooden parts from the panels
drilling holes in the walls and shelves, where needed and as shown in the instructions
inserting of all the bolts in the holes with the arrows of each one, pointing to the outer rim
inserting of dowels on every bolt and screw and locking them in their places with the proper screwdriver, till they are tightly set in their places
aligning and straightening the lowest racks, which will have the function of a drawer bulkhead
making the sides solid and tightening the bolt to put together the pieces of the bookcase
aligning the top raft and making the uppermost bookcase tight into its place
flipping over the bookcase, embedding and fixing the rear panel with small pins or nails, appropriate for this purpose
making the panel perfectly even with the frame in advance and fastening it with nails afterwards
nailing down the rear plank with the proper nails
assembling the drawers by gliding each one to its place
installation of the shelves, which aren't still put into their places
Following all the instructions of each bookcase and installing all parts the way they should be, our technicians will put together all the panels and planks. After screwing the nails and bolts on the proper places in the boards of your bookcase, following the steps of your manufacturer's instructions for assembling, your bookcase will be ready for usage. Every bookcase is different and whether it is more complex or a simple kind, it will be fixed and put together the proper way to function and be steady in your room.