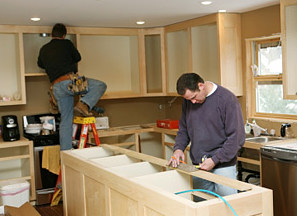 Although most cabinet include a manual with instructions, showing how to assemble your cabinet, it isn't an easy job and sometimes it could cause you problems. Improperly assembled cabinets aren't steady and can easily fall down and collapse when loaded. To avoid this use our professional cabinet assembly services and you can receive properly put together and mounted cabinets.
Our cabinet assembley service is only one of the professional handyman services offered by HomeMates in London and Greater London.
You can call us on 020 3745 4377 or email us at info@homemates.co.uk.
The cabinet assembly we provide includes:
after placing all the parts of the cabinet on a table, attaching the brackets in the frontage of the cabinet into pre-drilled holes
applying of glue for wood or whatever material your cabinets are made of to the both sides of the boards and sticking them well
fixing the sides to the face and making evenly and in one line the clippings with the brackets
perforating a bolt in the most upper side of the clip
sliding the uppermost and lowermost panels in the proper tracks and positioning them steady
sliding and adjusting the rearward panel, checking if the tops and bottoms are equal to all of the sides of the cabinets and the back side of the cabinet
screwing on the top and the bottom sides of the backward panel
with the most appropriate drill bits making holes on the backward sides of the cabinet
aligning the backside of the brackets and using the proper bolts to attach them in the holes, which will strengthen and secure the lateral to the rearward panels
inserting the pads inside the angles up and down on every side of the cabinet's door
drilling holes on the places where the clip shelf hangers will be attached
installation of the clip shelf hangers on the previously determined places, which will connect the door of the cabinet with its body, shelves and the base part
tucking the shelf clips and positioning the shelves on the proper places
The process of assembling cabinets, whether they are one doored and plain or have multiple doors and are more elaborate, is similar. You can have well assembled cabinets, which can be filled with many items without the threat of collapsing, if you use out cabinet assembly services.