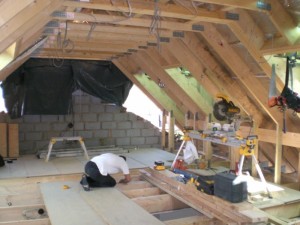 Professional loft conversion services in Croydon, CR0 provided by HomeMates. Increase the living area of your house with our loft conversion service. Call now!
Our company deals with loft conversion. We are a team of builders who have vast experience in this business and are prepared to help anyone from Croydon, CR0 to convert their lofts and ensure extra space in their properties.
For many years our company has been the leader in loft conversion and we can assure you we are worth the try. With the finest equipment and proper knowledge, the best techniques and competent technicians, we can turn your dreams into reality. Every member of our company is insured and certified.
Contact HomeMates at 020 3745 4377 or at info@homemates.co.uk.
Building Services Prices
The prices can vary greatly depending on the size of the property and materials used. We strongly recommend to fill in the form or call us for a free quote.
Loft Conversion in Croydon from HomeMates
Our service is popular around Croydon, CR0. We offer high-quality and professional loft conversion solutions for small and big houses. No matter what you situation is, we will do our best to make your loft more liveable. By providing more accommodation in our home we will improve the quality of your life.
Check out our company:
Has been in business for the past decade
Is very experienced and highly spoken of
Offers flexible schedule and decent prices
Uses the latest equipment
We are very professional, understanding, experienced and polite. We can help you with your loft conversion. Get in touch with us.
Here is a list of all the services we provide in Croydon
Many people realise they need more space, but they are not ready to extend their homes. More often than not house extensions take up space from their gardens. Not only this, but this type of home improvement is expensive. Many Croydon, CR0 residents decide to go for a less costly solution. Here is when we come.
Loft Conversion Services in Croydon, CR0
Our company specialises in loft conversion. As loft conversion experts, we are aware of all the problems that may arise during the process; we know which products and tools to use, how to draw the plans properly, how to carry out the work the right way, meeting all regulations and standards. We will consult with some of the specialists in this field if necessary and will do everything necessary to make your loft not only liveable, but also secure.
Our company is a pro in loft conversion and you can be sure your money will be well spent. We are available every day, including weekends, which makes the whole process a lot faster as you don't have to wait a long period to have your loft inspected. We will get things going as soon as possible. We promise to achieve the expected results. Give us a call.