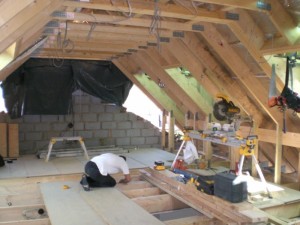 Professional loft conversion services in Fortis Green, N2 provided by HomeMates. Increase the living area of your house with our loft conversion service. Call now!
For customized and professional loft conversion, you can choose the outstanding loft conversion that is kindly provided by our dedicated company in Fortis Green, N2. We collaborate with comprehensive and well organized employees who are available during the week as well as at the weekends to come and to discuss all the details of the loft conversion with you.
If you want to invest in your additional space and to increase the value of the property we are certainly the right choice for you. We are supplied with first class quality equipment that consists of modern tools and machines. Our employees will renovate your place in an unique way, causing minimum disturbance to your comfort.
Contact HomeMates at 020 3745 4377 or at info@homemates.co.uk.
Building Services Prices
The prices can vary greatly depending on the size of the property and materials used. We strongly recommend to fill in the form or call us for a free quote.
Loft Conversion in Fortis Green from HomeMates
Trust our professional approaches of working and leave everything into the hands of our reliable staff. Benefit from our second to none offers in Fortis Green, N2 that now include the following things:
Excellent organizing of the loft conversion
Taking care of every additional aspect
Assistance for the design of your space
Co operation with reliable and experienced architects
Convenient working schedules that include the weekends
Very reasonable prices without additional fees
Call centres for finding additional information about the loft conversion
Here is a list of all the services we provide in Fortis Green
We will demonstrate you motivation and professionalism while we provide our flawless loft conversion. Our architects and builders will help you to pick the most suitable design for your space and we will implement everything in the required way and due to the regulations. We hope to establish good collaboration with our customers and we give a guarantee for ideal final results from the loft conversion. Thanks to our convenient working schedules you can choose the most appropriate hours for arranging a meeting with our friendly and cheerful employees.
Loft Conversion Services in Fortis Green, N2
You can find is without any difficulty in Fortis Green, N2, whenever you need professionally done loft conversion. Planning and organization of every detail will be our responsibility. Instead of dealing with all the time consuming procedures by yourself, you can trust the impeccable approaches, provided by our trained employees. As far as the prices are concerned, you can certainly benefit from the affordable rates and exceptional offers for our loft conversion. Should you need any further information, you can turn to the customer support centres, provided by the company where our kind staff will respond to all of your questions. Choose our qualitative and on-time loft conversion for a fantastic transformation of your additional space.