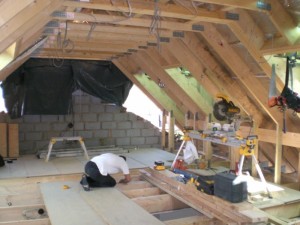 Professional loft conversion services in Lee, SE12 provided by HomeMates. Increase the living area of your house with our loft conversion service. Call now!
Have you reached a point in your life when you need more space at home but you can't move into a bigger one? Then what you need is our professional loft conversion service, delivered in Lee SE12.
We are a company of many years that has significant experience in the building industry. We are skilled, educated, organised and very hard-working.
Contact HomeMates at 020 3745 4377 or at info@homemates.co.uk.
Building Services Prices
The prices can vary greatly depending on the size of the property and materials used. We strongly recommend to fill in the form or call us for a free quote.
Loft Conversion in Lee from HomeMates
Our company is very dependable and professional. Proof for that are the numerous customers that used our service in the past and left a positive feedback. We offer Lee's best loft conversion services.
What we offer:
No hidden charges
Professional guidance through the whole process
Acceptable prices
Extended working hours
Fully trained and experienced staff
Here is a list of all the services we provide in Lee
Our company is certified and we have the required insurances. Just so you know, we work during weekends along with workdays. It will be a pleasure for us to meet you and have a discussion about your loft conversion. Get in touch with us as soon as you wish.
We cannot tell you whether you attic can be converted before we have a close look at it. We need to know its dimensions, pitch angle and stuff like that to determine whether it will suit loft conversion or not. Once we are convinced the place is okay and it can be converted, we will discuss your desires with you, that is, how you imagine your place should look after the conversion. Some of these upgrades require permission. Don't worry about it, we will have it covered. We will deal with all the planning required, providing the best solutions for your loft.
Loft Conversion Services in Lee SE12
After that we will start work. Using the latest equipment as well as the most successful techniques, we will upgrade your loft. We may extend part of it. We will do our best to finish work as soon as possible. Of course, we will make sure all the work is done to a high standard, in a safe and secure way. You can be sure your new room will be ready to use in the years to come.
As you already know, our loft conversion services are available in a few London regions, and one of them is Lee SE12. We would love to speak to you about your loft conversion and a possible collaboration with you. Don't miss the chance to have your attic converted by our specialists. Make an appointment right away.