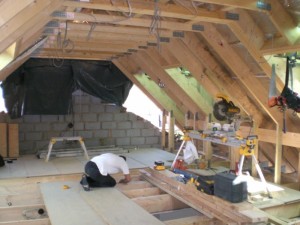 Professional loft conversion services in Muswell Hill, N10 provided by HomeMates. Increase the living area of your house with our loft conversion service. Call now!
If you want to have some extra rooms that you need in your home or property for rent, you can use our reliable loft conversion services. They are done in accordance with all requirements of the local authorities.
Our specialists in conversion can implement the type of loft conversion appropriate for your house, taking into account the structure of your property's roof. They can plan and implement your loft conversion project so that the final results correspond to the desire and ideas of each customer.
Contact HomeMates at 020 3745 4377 or at info@homemates.co.uk.
Building Services Prices
The prices can vary greatly depending on the size of the property and materials used. We strongly recommend to fill in the form or call us for a free quote.
Loft Conversion in Muswell Hill from HomeMates
Our loft conversion services in Muswell Hill include:
Installation of roof lights
Bespoke staircase fitted to connect the loft with the other rooms in your home
Internal partitions installed and fitted
Installing plumbing and electrical appliances and systems
Providing the necessary insulation
Using plasterboard, tape joints and plaster finish for the interior of the rooms
Installation of floor and providing the proper floor finish
Carpentry work
Final painting and decorating
Here is a list of all the services we provide in Muswell Hill
If your estate is located in Muswell Hill, N10 and you want to have loft conversion done in it, use our call centre, e-mail or online form to book it and receive a free quote. Our services are available seven days in the week, including during bank holidays.
Loft Conversion Services in Muswell Hill, N10
Our company offers the best solution for your house, extending it space in the roof, so we won't use your garden or patio area. Use our professional services and your loft will be designed in the way that you have planned it. Our team of builders, architects, plumbers, electricians, carpenters and roofers will make the necessary structural changes in your roof and loft to make it suitable for living. They can create a bedroom, bathroom, nursery, living room, home office or whatever other kind of room you need. Our company works seven days in the week and is located in Muswell Hill, N10.
We can make your home and commercial estate more pricey and fitted with the necessary furniture, electrical appliances and facilities to function as the rooms you need. Our company had implemented a number of loft conversion types, done in line with the requirements of the local authorities and our customers. Use our online booking form, e-mail or numbers for contact to order the loft conversion you need, if your house is located in Muswell Hill, N10. You can have your property estimated free of charge by some of our specialists in conversion.