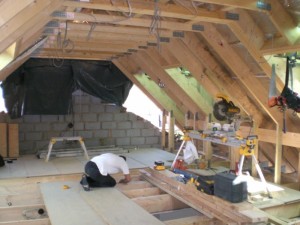 Professional loft conversion services in Winchmore Hill, N21 provided by HomeMates. Increase the living area of your house with our loft conversion service. Call now!
If you want to have your additional space thoroughly renovated and transformed in a professional manner, you can contact our dedicated company that offers loft conversion in Winchmore Hill, N21. We provide our excellent services from Monday to Sunday and we promise to demonstrate you great willingness for achieving fantastic final results.
We apply innovative and effective methods that facilitate the process of working in an unique way. Our loft specialists are ready to listen to your requirements and to take into account all of the ideas that you have for your loft conversion. No matter of the time, we are ready to make an arrangement with you and to come as soon as possible to start with the implementation of the procedures.
Contact HomeMates at 020 3745 4377 or at info@homemates.co.uk.
Building Services Prices
The prices can vary greatly depending on the size of the property and materials used. We strongly recommend to fill in the form or call us for a free quote.
Loft Conversion in Winchmore Hill from HomeMates
We are welcoming you to make the right choice and to book our high quality loft conversion, offered in Winchmore Hill, N21. Take a look at our amazing offers and benefit from the following things:
Complete organization of the loft conversion
Traditional and modern methods of working
Reliable and devoted staff
Latest technologies and excellent equipment
Flexible working hours
Affordable rates
Customer support centre 7 days per week
Here is a list of all the services we provide in Winchmore Hill
If our offers seem tempting, do not hesitate anymore but contact our cheerful and comprehensive team. We will organize every detail of your loft conversion and we will also organize great consultations with our recognized architects.
If you still wonder about the design and changes that you want for your loft conversion, we will be happy to give you excellent advice for the options that you have for your loft conversion. The equipment of instruments and machines that we use is of a first class quality and they guarantee for the smooth and safe working process.
Loft Conversion Services in Winchmore Hill, N21
Find us in Winchmore Hill, N21 and forget about all the preoccupations around your loft conversion. We will make your additional space comfortable and cosy without damaging any of your surfaces. Thanks to our customized and flawless loft conversion you will receive the chance to increase the value of your property in an easy way.
Benefit from our exceptional offers and affordable prices and we will provide qualitative and professionally done services included in our loft conversion. Should you require any further details, you can trust our customer support centre that will be at your disposal during the whole week. Our kind staff will be glad to respond to all of your questions in the most effective way.