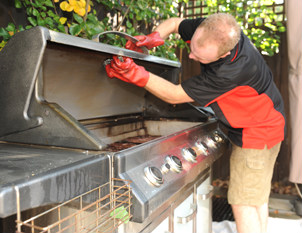 Apart from being unhygienic, the fat, carbon and grease, left on the barbecue make the food smells bad. Let an experienced cleaning technician make it look like a brand new one in the blink of an eye. The ideally cleaned barbecue prevents corrosion and carcinogens, which would otherwise be transferred to your food.
Our barbecue cleaning solution is only one of the professional cleaning services offered by HomeMates in London and Greater London.
E-mail us at info@homemates.co.uk or call us on 020 3745 4377 and our customer care team will gladly explain you even the smallest details about our cleaning services.
Vlado
works for the company for 4 years. Vlado is a successful leader who always aspires to improve the service performed by his team.
Daisy
has helped to more than 2,000 Customers to save time and make sure that their houses are sparkling and perfectly cleaned.
Oliver
covers Professional Window Cleaning for more than 2 years. He has helped to numerous Customers to get their windows cleaned.
Rejep
is one of the most sought out in the company, as he is specialised in Professional Upholstery Cleaning.
The BBQ cleaning service consists of several steps taken in a consecutive order and aimed at removing all the dirt:
pre – inspection of the barbecue
removing the racks
thorough cleaning with appropriate supplies
reassembling the barbecue
polishing
checking if it is working
Before starting the cleaning procedure the barbecue will be inspected by a skilful cleaning technician so any potential troubles will be prevented. During the pre- inspection, the cleaning experts will be able to tell which is the best cleaning method, depending on the condition and the material your barbecue is made of. The burners, thermometer, pressure regulator, igniters, venturi plates will be carefully checked. It is a well known fact that the heat makes the grease removal procedure easier to if possible, your BBQ will be turned on so better results are achieved.
BBQ Cleaning Services
The removable parts will be taken out and every detail will be paid a considerable attention to and treated with efficient detergents. This includes a deep cleaning of the grill racks, the flavorizer bars and the heat plates. The hood, pull – out tray, drip plans, control knobs will be degreased. The usage of decent tools and detergents is a must for achieving the ideal cleanliness. The skilful cleaning experts will use eco – friendly products and appropriate equipment so you shouldn't fear any scratching or damages.
If applicable, the barbecue parts will be polished.
Once the barbecue cleaning service is carried out, all the parts that have been removed will be put back in place and the appliance will be checked if it is working properly.
And last but not least, the customer will be asked to share their opinion about the quality of the cleaning procedure performed.