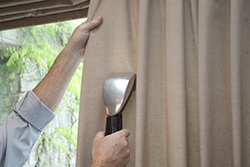 Clean curtains can create a cosy and pleasant atmosphere at every room but depending on the material they are made of, their cleaning and maintenance can turn into a really challenging task. If you want to make your curtains as nice looking as they were in the day you hung them, the best thing you can do is to opt for some professional assistance.
Our curtain cleaning service is only one of the professional cleaning services offered by HomeMates in London and Greater London.
Vlado
works for the company for 4 years. Vlado is a successful leader who always aspires to improve the service performed by his team.
Daisy
has helped to more than 2,000 Customers to save time and make sure that their houses are sparkling and perfectly cleaned.
Oliver
covers Professional Window Cleaning for more than 2 years. He has helped to numerous Customers to get their windows cleaned.
Rejep
is one of the most sought out in the company, as he is specialised in Professional Upholstery Cleaning.
As a reputable cleaning company, we offer top quality curtain services at sensible prices. Here are some of the cleaning procedures are are capable of performing and the stains we are capable of removing:
nicotine
watermarks
mildew
pet stain and odour removal
mould
E-mail us at info@homemates.co.uk or call us on 020 3745 4377 and our customer care team will gladly explain you even the smallest details about our cleaning services.
The cleaning technicians are equipped with the appropriate tools needed for cleaning fabric curtains, drapes, blinds, thermal fabrics. Rest assured that no solvents will be used during the curtain cleaning procedure.
Once the cleaning service has been carried out, the curtains will be subtly scented and the freshness will linger for a long time. Although the cleaning experts are certified and knowledgeable enough to avoid any damages, the curtains will be checked for shrinkage and colour loss at the end of the cleaning service.
It is a well known fact that the curtains trap dust, odours, hairs, smoke, which make them the ideal place for mites and germs. If you have been suffering from dry cough, hay fever, allergic reactions, dermatitis, consider having your curtains professionally cleaned.
We guarantee that the cleaning experts will do their best to exceed your expectations and they will even repair minor damages if any – rehemming, repairing pleats, relining, replacing loops and strings – there is nothing that would pose a difficulty to them.
The thermal – backed fabric and drapes are lined with thermal lining.
Booking a curtain cleaning service is fairly easy. Get in touch with the call centre supporters and ask for availability in your area. You will also be given accurate information about the price rates and the powerful equipment and cleaning supplies that will be used. Both – the cleaning experts and the call centre representatives work seven days a week for you.