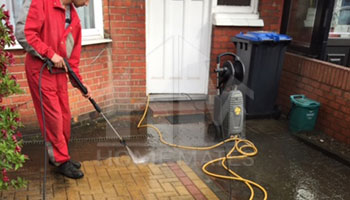 We are a professional cleaning company that performs pressure washing service for a variety of surfaces and places with the help of professional machines and power wash.
The process of pressure washing consists in several simple steps. The first one is the inspection of home and the evaluation of its condition. This also consists in loosing of debris and mud with the help of bristles. All of the plants will be protected by putting them in water.
The second step consists in the real washing of the home. It includes the dampening with water by using appropriate soap. For this purpose are used scrub brushes through which the places are easily cleaned.
Vlado
works for the company for 4 years. Vlado is a successful leader who always aspires to improve the service performed by his team.
Daisy
has helped to more than 2,000 Customers to save time and make sure that their houses are sparkling and perfectly cleaned.
Oliver
covers Professional Window Cleaning for more than 2 years. He has helped to numerous Customers to get their windows cleaned.
Rejep
is one of the most sought out in the company, as he is specialised in Professional Upholstery Cleaning.
Pressure Washing from HomeMates
The third step consists in the professional rinsing with low pressure and the procedure needs to be repeated several times, depending on the condition of your home. The last, but very important step consists in the final observing of the property to make sure that it was excellently cleaned. Thanks to the water used at high speeds, the pressure cleaning can effectively removed materials from:
porches
driveways
garden furniture
patios
decks
walls
runways
concrete
side walks
Our pressure washing solution is only one of the professional cleaning services offered by HomeMates in London and Greater London.
E-mail us at info@homemates.co.uk or call us on 020 3745 4377 and our customer care team will gladly explain you even the smallest details about our cleaning services.
The gum and paint wall can be really cleaned now thanks to the pressure washing service performed by our dedicated cleaners. Walls, runways and concrete – all these surfaces can be perfectly cleaned thanks to the pressure washing procedures provided by the company. Another problem that can be effectively resolved through the pressure washing is the stubborn mildew and mould.
If the pressure that is used is higher than necessary, you can receive many damages but we use special pressure washing approaches that will guarantee the successful cleaning of your home. All of the contractors that will come to perform the pressure washing are fully insured and very qualified. The policies of the company are very organized in terms of loyalty and thinking about the details of the providing of the pressure washing.