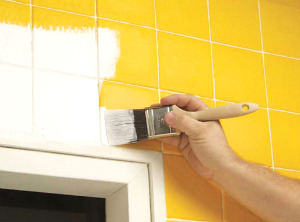 Replacing of old tiles can be expensive and time consuming hard work. Instead of it you can choose to paint over the tiles with the new colour. Our tile painting services will apply the chosen colours over your tiles and the paint will last long.
They include preparing the tile surfaces for the painting work, which include proper cleaning and sanding down: removing the grease from tiles near stoves and ovens, getting all tiles rid of soap, mildew, mould with the help of the proper detergents, vacuum cleaning the tiles' surface.
Arrange professional viewing by sending us an e-mail at info@homemates.co.uk or by giving us a phone call on
020 3745 4377.
Decorating Services Prices
| Painting, Decorating and Wallpapering | Painting, Decorating and Wallpapering | Tiling and Plastering Services | Tiling and Plastering Services |
| --- | --- | --- | --- |
| | | | |
| Free Quote | Free Quote | Free Quote | Free Quote |
Tile Painting from HomeMates
gently sanding down, using sandpaper to remove the imperfections and other food, grease and soap deposits, piled during the long usage and rinsing off with water, done without scratching the tiles' upper layer
covering the tiles with cloth and letting them dry out
protecting the things around the tiles area from paint splashes, covering them with paper or some cloth
laying of two layers of oil-based primer to the tiles, letting the first to dry and applying the second, which will make easier the gluing of the paint to all tiles and protect them from stains
polishing the tiles and vacuum cleaning afterwards
consulting and giving advices to the clients what colours are suitable for their room
using the appropriate type of paint: alkyd, oil-based or ceramic to cover the tiles, according to their type
applying of two layers paint on the rims of the tiles and the base, letting the first to dry out and then laying the second
painting the entire tiles or only some areas in them, making objects or using a colour scheme of customer's choice
after a few days applying the necessarily tile covering of thin layer of urethane to finish and seal up the paint as well as protect it from scratches
When providing the tile painting our specialists preliminary agree with each customer about every detail, concerning the style of the whole room, the effect he want to achieve and the budget he has planned for the procedure.