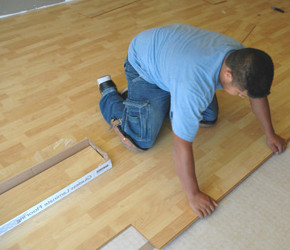 Laminate flooring has been an extremely popular flooring option for several years. This type of flooring consists of multiple layers of synthetic materials, which are merged together. Laminate flooring has been used by many people because of the fact that it is the best alternative of wooden and even stone flooring.
Also, it is much easier to install and to replace in case a certain part is broken. This makes laminate flooring a more convenient option in terms of cost efficiency. Another important factor for the raising popularity of laminate flooring is the fact that it is very easy to maintain and clean. Laminate is not the most durable type of flooring, however it is one of the most preferred options for a few reasons:
Costs less
Easier to install
Easy to replace broken parts
More hygienic
Easy to clean
Fits all types of interior
Our laminate floor installation solution is only one of the professional flooring services offered by HomeMates in London and Greater London.
You can get all the information you need by sending e-mail at info@homemates.co.uk or by giving us a call on 020 3745 4377.
Professional Laminate Floor Installation
Although there are people, who try and install their laminate flooring on their own, it is definitely a much better decision to use professional help and have it done by experts. Our company has been providing clients in the area of London with high-quality laminate flooring installation services for a very long time. To install laminate flooring properly, a number of planks have to be put together, as tongues and grooves are fitted into one another. However, even if it sounds easy to cope with, it might be a challenge to do it without professional assistance. There are several things that have to be taken into account when installing laminate flooring in order to do it correctly. Such issues can be:
The use of glue might be necessary in certain cases
There should be a gap left between walls and flooring
Planks have to be adjusted according to the skirting boards
Saw cuts might be required
Using professional help is the easiest and most effective way to achieve optimal results and have laminate flooring installed without a problem.