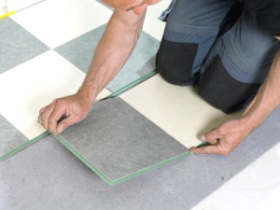 Vinyl floors and tiles have been among the most popular options for flooring these days. It is an easy and inexpensive way to improve the look of your home or work space. Installing of a vinyl flooring or tiles is not hard to do and it a great solution if you want to add class to your place. Vinyl flooring is famous for its range of benefits, which make it such a preferred option. Some of its advantages are:
Extremely affordable
Fits every kind of interior
Can be used in both residential and commercial properties
Easy to install
Waterproof
Easy to maintain and clean
Durable
Comes in many different styles, designs and sizes
Our vinyl tiling service is only one of the professional flooring services offered by HomeMates in London and Greater London.
You can get all the information you need by sending e-mail at info@homemates.co.uk or by giving us a call on 020 3745 4377.
Professional Vinyl Tiling Services
There are many types of finishes that a vinyl floor can have. They come in different colours and often are made of natural eco-friendly materials.
Although some people choose to install their vinyl floors themselves, perfect quality and excellence can be guaranteed only when using professional vinyl flooring or tiling services. Our company is one of the leaders in London to offer such services and has been providing customers in the city with ideal vinyl flooring for many years. Using professional assistance is undoubtedly the most efficient way to enjoy a nice and properly installed flooring. For the fact that vinyl tiles and planks are easy to install, the price of the service is very low and absolutely affordable. For a very small price our clients can have their floors put in professionally.
Another great advantage, which makes vinyl a great choice, is the fact that this type of flooring is resistant to moisture. This makes it the perfect option for kitchens and bathrooms. Maintaining vinyl flooring clean is very easy and does not require special detergents. It can be cleaned with a mop and a traditional cleaning products, without worrying about making the floor wet. The flooring is durable and can last for many years without any problem. Both vinyl planks and tiles are a great option if you want to make your place look great.