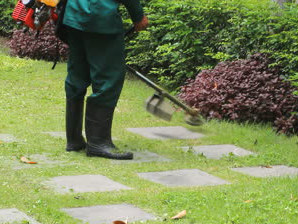 We are very experienced company that offers grass trimming services implemented in a thoroughly impeccable way. The gardening services are available in the whole London territory. To your attention we offer the following features of our grass trimming:
trimming around fences, bushes and trees
effective removing of grass clippings
co operating within specially trained grass trimming technicians
treating of the garden with special machines
Nick
has been working for our company for 3 years as a Professional Gardener. With 10 years experience in the field he managed to cover more than 3500 addresses.
Vesko
works for our company for 1 year already. As he is specialised in shaping the bushes, lawn mowing and grass cutting, he helps to numerous Customers to maintain their gardens on daily bases.
Grass Trimming from HomeMates
We offer trimming for a variety of gardens, no matter of their condition and the amount of grass. Even if the garden has not been trimmed during the last few months we will come fully prepared to perform appropriate grass trimming.
Our grass trimming service is only one of the professional gardening services offered by HomeMates in London and Greater London.
If you have any enquiry or if you would like to get a quote, just call us on 020 3745 4377 or send us an e-mail on info@homemates.co.uk!
Gardening Services Prices
Apart from the trimming we also edge side walks and we carefully clean the side walks and driveways after we finish with the trimming. The grass trimming services are performed by garden specialists who are equipped with appropriate grass trimmers for an effective implementation of the service.
They are not heavy which makes them very flexible and appropriate for use.
The grass trimmers that we use for providing effective grass trimming possess:
comfort handle
auto run stop switch
smart start
low noise
Thanks to them the process of trimming is very facilitated and we guarantee that they are the right addition for the flawless trimming of all types of gardens. The company has also hired professional gardening employees that are available every day to perform the most effective grass trimming in London.
The company can provide one off grass trimming of the garden that comprises several useful procedures or the customers can order full grass trimming that includes more complicated and thorough care of the garden.
The grass trimming services will be performed in a fast way, thanks to the best trimming machinery and to the really professional approaches for trimming that have bee acquired by our garden technicians. The gardens will be maintained in an excellent condition thanks to the careful treatment provided by our team.