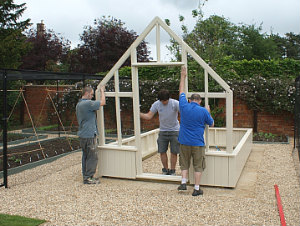 We will assist for your greenhouse installation which is one very essential aspect if you want to become an owner of your own greenhouse. The employees will take up with the installing as soon as you contact them. We offer to build almost every type of greenhouse:
Nick
has been working for our company for 3 years as a Professional Gardener. With 10 years experience in the field he managed to cover more than 3500 addresses.
Vesko
works for our company for 1 year already. As he is specialised in shaping the bushes, lawn mowing and grass cutting, he helps to numerous Customers to maintain their gardens on daily bases.
Greenhouse Installation from HomeMates
No matter of the specifications and the details of the project we can handle with the installation of every part of the greenhouse that you have bought. The company offers greenhouse installations both for small facilities and for larger institutional greenhouses. We do not require planning permission for the building of the greenhouses except for those cases when the greenhouse will be built right next to the main house or in cases when the greenhouse will be constructed on the site of a listed building.
Our greenhouse installation service is only one of the professional gardening services offered by HomeMates in London and Greater London.
If you have any enquiry or if you would like to get a quote, just call us on 020 3745 4377 or send us an e-mail on info@homemates.co.uk!
Gardening Services Prices
The time that we will need for the assembly of your future greenhouse depends on its type and specifications but we usually try to do this in fastest possible way, within a couple of days. The dimensions of the greenhouse will be made according to the preferences of the customers but we usually use standard measures for its assembly.
Through our company, you will have your greenhouse professionally prepared for use, without experiencing further problems with the installation procedures there. Our company is fully insured and co operates with trained team of workers who will quickly organize the building of the greenhouse. The workers will come with the equipment and machinery and will take up with the assembly of this useful greenhouse.
Our professionals will offer full assistance for the future project of your highly efficient greenhouse which you can afterwards use for the cultivation of vegetables as well as for indoor and nursery plants.