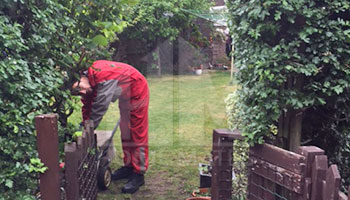 HomeMates provides various gardening services in Earls Court, SW5. Our gardeners can offer you lawn mowing, hedge trimming, tree pruning and other gardening services.
Our company is one of the general providers of professional gardening services in London. We are popular across the whole area of Earls Court, SW5, where we are located and have been operating for several years.
One of our best qualities is the fact that we are very concerned about our clients and their complete satisfaction with our service. We always make sure we provide them with everything they need and more.
Nick
has been working for our company for 3 years as a Professional Gardener. With 10 years experience in the field he managed to cover more than 3500 addresses.
Vesko
works for our company for 1 year already. As he is specialised in shaping the bushes, lawn mowing and grass cutting, he helps to numerous Customers to maintain their gardens on daily bases.
Gardening Services Earls Court from HomeMates
What else makes us the best is:
Our dedication and motivation
Our professionalism and excellence
Our modern equipment and professional tools
Our great gardeners
Our friendly attitude
Our variety of gardening services
This is how we have won the trust and appreciation of a large number of clients from all over the district, who have used our gardening services and continue hiring us to cope with different issues in terms of gardening.
If you have any enquiry or if you would like to get a quote, just give us a call on 020 3745 4377 or send us e-mail on info@homemates.co.uk!
Gardening Services Prices
Here is a list of all the services we provide in Earls Court
We are strongly related to our customers and it's very important to us to keep them happy and satisfied with the work they rely on us for. Our gardening services in Earls Court, SW5 are specially designed for a range of gardening purposes, regardless of their difficulty. No job is too easy or too complicated to us. We have everything we need to carry out our duties in a professional, timely and effective way. Our company has developed the ideal gardening services in Earls Court, SW5 that can easily meet every high expectation by completing tasks quickly and showing amazing results.
Professional Gardening in Earls Court, SW5
There are plenty of reasons to rely on us and entrust your garden to our skilled gardeners. All of our specialists have many years of experience, working as professional gardeners, and have completed hundreds of projects within the whole area. We have trained our employees and supplied them with the latest equipment on the market. Their skills, drive, green thumb and willingness to achieve brilliant results every time, help them please every client of ours with ease.
We have been hired by a number of residential and commercial owners and have provided several gardens with the right professional care. Our methods are the most adequate solution to have your garden taken good care of. In addition to this, you can enjoy our low prices that are the most affordable ones in the area. Call us now.