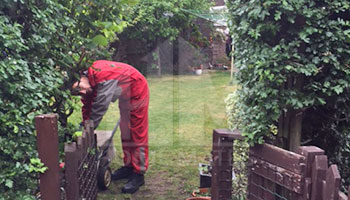 If your garden exists inside the London region, you can easily obtain a highly profitable gardening services package for your small or large garden from our company. Our staff will survey the site that is supposed to be cleaned & maintained and give you the correct estimate. Our quotation is 100 percent free of cost, and any type of obligation is not applied. So, you are not bound to book a service after obtaining a free quotation or free tips and suggestions. Just give us a call and enjoy an extraordinary gardening service for your garden in Forest Hill, SE23, or other location.
Nick
has been working for our company for 3 years as a Professional Gardener. With 10 years experience in the field he managed to cover more than 3500 addresses.
Vesko
works for our company for 1 year already. As he is specialised in shaping the bushes, lawn mowing and grass cutting, he helps to numerous Customers to maintain their gardens on daily bases.
Gardening Services Forest Hill from HomeMates
We are the leading provider of lawn & garden maintenance services in London, UK. Since the master gardeners of our company can execute all gardening chores for your garden, so, you can get the perfect solution for your all types of gardening requirements. Our firm's goal is to provide the best lawn care & garden maintenance services to our clients; we would not only focus on giving you a garden maintenance service but we would also focus on improving the appearance of your property and giving you a service that matches both your budget and your lifestyle.
If you have any enquiry or if you would like to get a quote, just give us a call on 020 3745 4377 or send us e-mail on info@homemates.co.uk!
Gardening Services Prices
We provide more services in Forest Hill
When you need gardening services in Forest Hill, SE23, London take a look at our offer. You can get a free quotation of the whole range of gardening services we are offering.
Our gardening company provides high quality gardening maintenance services for individual or business customers. We are working according your specific needs and your schedule, so we can fit it best. Our prices are reasonably affordable and our services will satisfy your needs.
Do not hesitate to call us and get all the details you need in order to book. Check our special offers and package services.
Professional Gardening Forest Hill, SE23
When you want to have a nice garden, you surely need professional gardening services – to trim the grass the height it should be, to prune the trees in order to be nice and blossoming, to take good care of the flowers and to take proper care to maintain the garden as a piece of your dreams.
In Forest Hill, SE23, London our professional gardening services company offers a big range of gardening services. We have a team of professional gardeners, trained and experienced in different situations.
Contact our operators and you can get all the information you need to book our services.