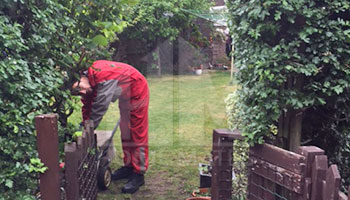 When you are looking for a new provider of reliable gardening services in Lewisham, SE13, London, do not hesitate to contact our gardening company – we are offering fresh look at the gardening services and along with the standard procedures like taking proper care of trees, lawns and hedges, we are providing innovative and design services that will help your garden – new methods of maintenance, new look at the normal garden procedures, fresh start, comprehensive approach.
Our gardeners perform their services every day of the week at reasonable prices.
Nick
has been working for our company for 3 years as a Professional Gardener. With 10 years experience in the field he managed to cover more than 3500 addresses.
Vesko
works for our company for 1 year already. As he is specialised in shaping the bushes, lawn mowing and grass cutting, he helps to numerous Customers to maintain their gardens on daily bases.
Gardening Services Lewisham from HomeMates
For garden care, general maintenance, garden design, hedge trimming, seasonal tree pruning and planting in Lewisham, SE13, London do not hesitate to contact our gardening services company. We are not only available every day of the week for your best convenience, but we also have gardeners that will amaze you with their skills and love for their job. We are available for business clients and we offer regular basis services and we also can provide care for individual customers according to their specific needs.
If you have any additional questions please do not hesitate to contact us.
Call today and you will receive all the details you will need.
If you have any enquiry or if you would like to get a quote, just give us a call on 020 3745 4377 or send us e-mail on info@homemates.co.uk!
Gardening Services Prices
We provide more services in Lewisham
We are owners of a Lewisham, SE13 based firm that delivers gardening services through its efficient, loyal, and experienced gardeners around the entire London region within the United Kingdom. We are helping all types of clients including working professionals, pensioners, landlords, estate agents, tenants, groundsmen, parents, etc. We have handled a multitude of projects of a wide variety. We have provided gardening services for a number of properties such as small residences, large residences, rental properties, residential estates, schools, colleges, care homes, sports clubs etc. Our customers are reputed citizens of the London city and they are completely satisfied with our full-fledged gardening packages.
Professional Gardening Lewisham, SE13
We are London based, notable, accomplished, reliable suppliers of gardening plus lawn maintenance services. Since we are capable and our company is well situated in London within the commercially active, well-known Lewisham, SE13 zone of the city, so, it is easy for us to fulfill all your demands at any time and on any day. We can deliver you the perfect standards of gardening and lawn maintenance since we can perfectly tackle all the issues related to your lawn or garden. Our gardeners can take best care of your lawn/garden and they can prove to be very useful to you since they know everything about gardening.