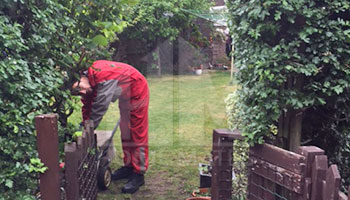 HomeMates provides various gardening services in Wimbledon, SW19. Our gardeners can offer you lawn mowing, hedge trimming, tree pruning and other gardening services.
If you search for the best maintenance of your garden in Wimbledon, SW19, we kindly offer our impeccable and professional gardening services. They are provided by a team of committed specialists who are well acquainted of all the procedures that are required for the best look of your garden.
Nick
has been working for our company for 3 years as a Professional Gardener. With 10 years experience in the field he managed to cover more than 3500 addresses.
Vesko
works for our company for 1 year already. As he is specialised in shaping the bushes, lawn mowing and grass cutting, he helps to numerous Customers to maintain their gardens on daily bases.
Gardening Services Wimbledon from HomeMates
You can be sure that our company is reliable and that we work up to the highest standards. What we can currently offer to our revered customers in Wimbledon, SW19 is the following:
Complete examination of the garden
Mowing of the garden
Excellent weeding
Fertilising with suitable substances
Professional opinion and assistance
Great diversity of designs for the garden
Eco friendly methods of working
Very affordable prices
No additional charging
Friendly and comprehensive specialists
Flexible working schedules
Call centres from Monday to Sunday
We are available 7 days per week to offer you our professional assistance and to come up with the best ideas for the design of your garden. No matter of the problem, we guarantee that we can find a suitable solution because we are experienced and highly motivated.
If you have any enquiry or if you would like to get a quote, just give us a call on 020 3745 4377 or send us e-mail on info@homemates.co.uk!
Gardening Services Prices
Here is a list of all the services we provide in Wimbledon
We promise to provide extensive care of your garden and to restore and maintain its nice look. Our specialists will make complete examination of the garden before starting with the procedures. We have chosen the best eco friendly equipment as well as the most modern tools and machines that help us to provide flawless treatment of your garden. Mowing, weeding and fertilising of the soil – we are prepared to perform all this, thanks to our trained and motivated employees.
Professional Gardening in Wimbledon, SW19
We can offer you very flexible working schedules, because we understand that you may have other important arrangements. Contact us in Wimbledon, SW19 and choose the best treatment for your garden. We have prepared exceptional offers and reasonable prices for all the gardening services that we offer.
Our fully trained staff will be glad to discuss your preferences and to collaborate with you for finding the best decision for your garden. Instead of trying to solve all the problems on your own, trust the professionalism and loyalty of our experienced company. To receive answer to all of your questions, do not hesitate to turn to our customer support centres.