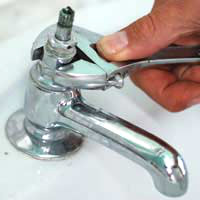 Here at HomeMates we can install bath taps for your home. You can count on us to help you put your place in order after construction or just refresh the appearance of your property by installing new stuff.
Our technicians follow a strict guide on bath tap installation. To get an idea what they do when they go to clients' houses, check out these general instructions:
Before they begin, they need to make sure the water is turned off so they can work without flooding the house.
If you want to change your existing tap with new one, they have to remove the old one in the first place. Thus, they unscrew the tap and take it out of the sink.
Next, they insert the new tap. There is a nut that holds together the tap and sink, so they have to connect these two. The tap tail is found underneath the sink.
The job is done.
Now our technicians need to make sure that the tap works correctly. They test the taps after turning the water supply on.
Our bath tap installation service is only one of the professional handyman services offered by HomeMates in London and Greater London.
You can call us on 020 3745 4377 or email us at info@homemates.co.uk.
Our technicians will not leave until they are sure everything is the way it has to be.
Professional Bath Tap Installation
There are numerous types of materials used for the making of taps including chrome, nickel, stainless steel, gold and brass. Whether you choose chrome or nickel does not affect the efficiency of your tap; it is rather a matter of aesthetics. Apart from this, you also you need to choose between mixer taps and separate taps. The most popular choice in this case is mixer taps where cold and hot water come out of one single spout. It is just more convenient.
When it comes to tap styles, it is a matter of taste. There are a variety of styles but the most popular are lever taps and crosshead taps.
If you would like to use our company to do the job for you, we can help you choose the kind of tap that you need. Get in touch with us over the phone.