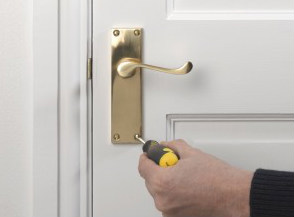 According to the model of your door and the preferences you have for door hardware, our company can offer you, as part of its handyman services, a professional door handle changing of various models. The handle plays an essential part in the overall effective function of your door and that's why it is important to select just the right kind which will suit your needs perfectly.
Through the services of our agency you will receive not only efficient installation of new handles but also competent consultations which will help you make a choice faster.
It is a good idea to change your door handle from time to time, so that it doesn't create unpleasant problems for you. It is normal for all types of mechanisms to become worn out after time and for that reason it is essential to change the devices when you notice that are not working right. We can supply you with procedures for effective changing of the various handles of your doors, from level handle to more complicated models.
Our door handle changing service is only one of the professional handyman services offered by HomeMates in London and Greater London.
You can call us on 020 3745 4377 or email us at info@homemates.co.uk.
Handle Changing from HomeMates
The process will go through several stages:
Consultation – If you think that it is time to try a newer and better handle model but you don't know if it will fit in your door, our specialists can give you an immediate answer. Before the beginning of the actual changing of your current handle, our technicians will give you an extensive consultation regarding all things that interest you and will help you make the right choice.
Removing of the old handle – In case you still haven't purchased your new handle model, our professionals can take care of that after you pick the one that you desire. If you already have a new handle, then our technicians will move on to the replacing.
Inflicting of modifications – Sometimes a new handle mechanism might require little modifications, so that it can fit into the place of your old handle. If it is necessary our specialist will take care of that, too.
Installing of the new handle – When the old handle is removed and the area is prepared, our technicians will begin the placing of the new handle which shouldn't take more than an hour or two.