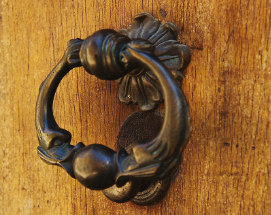 A beautiful door knocker can turn out to be a great addition to the style of your front door. A nice antique fixture with a heavy clapper hanging from it will make your thorough home look more elegant and nicer, as long as the whole device is installed properly. For that you can turn to our professional agency which provides efficient door knocker installation services for every type of model that the market offers.
Every element of the device will be attached to your door correctly which, on the other hand, will guarantee you that the material of your door will be preserved intact for the future.
Our door knocker installation service is only one of the professional handyman services offered by HomeMates in London and Greater London.
You can call us on 020 3745 4377 or email us at info@homemates.co.uk.
In our company are employed competent professionals who can deal with the installation of your newly bought door knocker or just with the repair or replacement of your old one. The technicians we will provide you with for the required service will be equipped and prepared to handle the installation of your door knocker model in several hours and by the end of the day your front door will be nicely decorated. Several simple steps will be enough for the permanent placing of the device on your door and they are:
Positioning – When our technicians arrive at your real estate property, the first thing they will do is examine carefully the external side of your front door and according to your desires, they will measure and mark the place where your knocker will be installed.
Drilling of holes – After the marking, our specialists will start drilling the holes in which will be later put the bolts which will hold your new door knocker on its place.
Tightening of the bolts – When the holes are ready, the technicians of our company will use their special tools to screw all bolts in the newly created places and then tighten them until the door knocker is permanently attached.
Checking – The final step includes a thorough inspection of the achieved result and possible improvements wherever it is necessary. You will be the first person to see the effect of the work of our professionals, so you will have enough time to evaluate the results and change something if you don't like it.