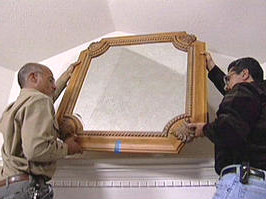 We are respected and professional company that can offer the best mirror hanging and installation services in this region. There are many places in your home where mirror installation could be needed, either in the bedroom or bathroom areas.
When the customers decide where they want their mirrors to be installed, the real mirror installation procedures can begin. There are currently two types of installation that we offer and they are the following ones:
adhesive installation
bracket installation
Our mirror hanging service is only one of the professional handyman services offered by HomeMates in London and Greater London.
You can call us on 020 3745 4377 or email us at info@homemates.co.uk.
The adhesive installation represents a method that is applied with a glue to the back side of the mirror and the it is attached directly on the wall. It is one of the most preferred options when it comes to mirror hanging and installation, as there would not be any brackets that will be observed on the surface of the mirror that can distract you from the reflection in it.
The customers who choose this method need to take in mind that the removing of a mirror that has been installed in this way is very difficult and often the damage for the walls is greater.
Mirror Hanging Services from HomeMates
The bracket installation, on the other part is another option for the mirror installation that we offer in our company. It consists in holding of the mirror with four brackets that are screwed into the wall. We know that brackets that are improperly installed can lead to the breakage of the expensive mirrors. The professional handy men will ensure the most appropriate bracket installation no matter of the type or the size of the mirrors. The employees can manage without any problem with the hanging of your art mirrors as well as with the appropriate positioning of the smaller mirrors.
The mirrors can be installed on various surfaces that include: