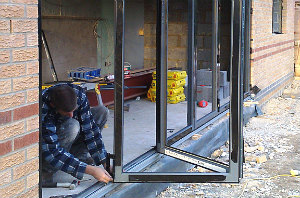 If you want to install sliding doors on your wardrobe or in any room, call our expert technicians to get the job done. This is not a task that a non-professional can do without previous experience or skills, which is why it's advisable that you turn to specialists.
You can call us on 020 3745 4377 or email us at info@homemates.co.uk.
Advantages of sliding doors
Make more space in the room
Elegant and modern looking
Perfect for many buildings
You don't need to have a large room to assemble sliding doors
The doors are not so heavy
Sliding Door Installation from HomeMates
They start by building the frame, nailing all the pieces together. After that they place it inside the opening. The legs of the frame should be plumb. Then they level the frame to make sure it is lined correctly.
Next, the frame is attached in place. The door is measured and trimmed.
Now our experts install the top track. It is placed on the door frame. After all the door rollers and brackets are installed one of the doors is hung in place.
The procedure is repeated for the second door.
The final step is to install the door hardware.
After our technicians are ready, they tidy their mess and leave. Installing sliding doors had better be done by specialists, as there are a lot of things that amateurs are not familiar with, starting from the types of doors.
There are several types of sliding doors among which bypass doors, Arcadia doors and pocket doors. The most used system is top hung sliding doors. In this case the door is hung at the top of the frame. When this types of system cannot be used for some reason, then our specialists recommend using a bottom rolling system where there are tracks at the bottom of the door and two rollers are installed on them.
For more information and booking hours, please contact our company representatives who will tell you everything you need to know. You can get in touch with us online or by phone.