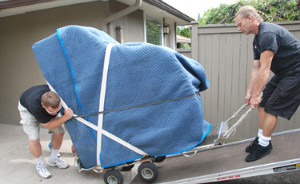 Every musical instrument has to be treated with care but that rule is absolutely valid especially for the pianos. They are usually too heavy and expensive. Nobody wants to get unpleasant scratches onto the piano surface or a more serious damage. Whenever you have to carry your piano anywhere, you can rely on our assistance.
The piano is a fragile item that may cause injuries and damages to your property. However, we can do the piano removal for you:
preparing the piano for moving
disassembling the removable parts if applicable
wrapping it up
loading it into a specialised vehicle
Our piano removals service is only one of the professional relocation services offered by HomeMates in London and Greater London.
To get in touch with us give us a call on 020 3745 4377 or email us at info@homemates.co.uk.
Relocation Services Prices
Piano Removals from HomeMates
Pianos are pricey musical instruments that can be easily carried from one place to another if you hire professional piano movers. They will disassemble the parts provided that the design allows so and all the precautions will be taken. The technicians will make sure that the path is clear and there are no obstacles or objects that may cause damage or injury.
Padding the piano is an important element for protecting it during the moving procedure. Every part will be wrapped up so neither the piano itself not the floor will be scratched.
After all the preparations, the piano is ready to be moved to another location. It will be carefully loaded into a special crane vehicle and rest assured it will be absolutely protected.
If you don't want your piano moved to another venue for a special occasion but you just want to get rid of it, we can help you recycle it. The procedure is almost the same and you once the piano is loaded into the truck, you are free from any responsibility.
We guarantee that all the technicians, sent to your property are certified and qualified for dealing with fragile or heavy objects. They will promptly deliver the instrument to the desired address where it can be unpacked, reassembled and installed.