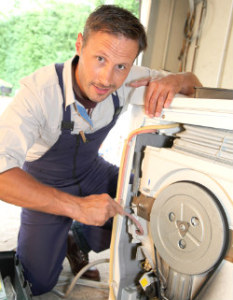 We are a dedicated and respected company that offers washing machine repair services performed by instructed technicians. Our engineers will take care of a variety of problems that may occur to your appliance. We can take up of the repair of many brands and we provide solutions for the following washing machine faults that may appear:
problems with draining
leaking
noise from the washing machine
not spinning
problems with starting
The washing machine repair service we offer is part of the appliances repair services which HomeMates offers in all London districts.
Get a free quote or arrange inspection of the broken or defective appliance at info@homemates.co.uk or call us on 020 3745 4377.
Washing Machine Repairs from HomeMates
If you find your problem among the following ones, you can contact us and we will come to inspect the condition of the washing machine. If the machine does not spin or drain (no matter if it is top loading or front loading) our technicians will check the efficiency of the computer control. The reason for this may be an electrical spike, a load imbalance or a fault in the computer module.
Our technicians will unplug the washing machine and they will leave it that way for a while. Then they will open and close the door of the washing machine a couple of times in order to send a "reset" signals to the machine. This methods will probably solve some of the most common problems with draining or spinning of the washing machine.
When the reset is completed they will set the washer to a smaller load without any clothes. If the washer works in a proper way, the problem will be fixed. Another problem that our engineers can fix is the problem with the Lid Switch. They will check the efficiency of the switch by removing it. When the switch is removed our workers will test the washing machine with a digital multimeter and after that they will fix the problem.
Another problem with the washing machine that we can solve is the problem with the water level control. Our technicians will check for this by removing the 4 screws that hold the control panel in place. In this way they will be able to observe the water level control valve and to replace the pressure switch if this is necessary.