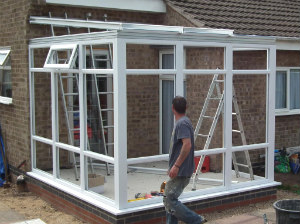 If you are planning to add a conservatory to your current home, you are free to perform such renovation without having to ask for permission from the authorities. There are several condition, though, which need to be considered in order to avoid problems or complications with the building process of your new conservatory. Keep in mind, however, that the following mentioned regulations refer only to the construction of conservatory in a house. Here are the conditions:
You are permitted to cover with various other types of buildings only half of the whole area which surrounds your house. This refers to the original state of your house from when it was built for the very first time and this includes also any extensions which owners before you have made in the area of the house.
There must be no additional extensions in front of the main elevation or in front of the one on the side, fronting any highway.
The roof of the house must remain the highest part in the real estate property which means that any extension must be build to be smaller.
If you are building a house extension with only one storey which is attached to the property, it shouldn't go more than 3m beyond the back wall of the original structure of the house. If, however, you are building the same construction which is not attached to the house, you can extend it to at least 4m.
According to the Neighbour consultation scheme, there might be some changes in the measures. For larger attached extension the limit can be pushed to 6m, while for the detached constructions to 8m until May 30th 2016.
The limit for the height of any rear extension with only one storey is 4m.
When building an extension which has more than just one storey, make sure that it extend to exactly 3m from the back wall of your original house. It also shouldn't go beyond 7m from boundaries which are opposite to the back wall of the real estate property.
If you are also planning to build some kind of eave to your new house extension, it has to be no more than 2m in comparison to a boundary of 3m.
Any ridge or eave of the new house extension must be build to be shorter than the roof of the already existing house.
The house extensions which are build to the side of the house must have only one storey and must be no higher than 4m and wide as much as half of the constriction of the original house.
The roof pitch of any house extension with more than one storey must be matching the roof of the already existing house.
The extensions shouldn't contain any verandas, balconies or platforms which are raised.
If your property includes any designated lands, which include national parks, Areas of Outstanding Natural Beauty, Heritage Sites or other similar areas, you are not allowed to develop any kind of rear extensions which have more than just one storey, as well as no extensions to the side or any cladding of the exterior parts.
Regulation of other building projects
House Extensions
Loft Conversions
Fence Installation
Reroofing
Kitchens and Bathroom Refurbishment
Boiler installation and Central Heating
The previously mentioned Neighbour consultation scheme is created to serve in single cases when building a bigger rear extensions with a single storey. Such special constructions are allowed only for 3 years, including the period between May 30th 2013 and May 30th 2016. There is a more specific process through which must go every person who wants to build a detached house extension, including measures like 4m to 8m and 3m to 6m for other types of houses. There is a specific template which every owner of a house who want to build a bigger extension must use in order to inform the authorities for his intentions. It is called a Notification of a Proposed Larger Home Extension which also comes with a guidance note which can be easily found on the Internet.
If you want to do some kind of work in the form of extension or something else in a listed building, you should also require an official consent. Keep also in mind that if you are planning a development which is over 100 square meters, it might be charged in accordance to the Community Infrastructure Levy.
In order to avoid any misunderstanding and possible mistakes, it is recommended to read in advance the Technical Guidance which the Government has provided specially for people like you which will help you understand better exactly in what way your personal case coincides with the official rules for development.
The Building regulations
Ordinarily, the general Building regulations have to be considered when building some kind of extension in your house. When it comes to the conservatories, however, they are usually free from those specific regulations in situations when:
The conservatory is situated in no more than 30 square metres in the floor area and is build at a ground level.
The particular extension is detached from the original house through some kind of external walls, as well as windows or doors.
The conservatory contains separate heating system with individual temperature and switch control.
The particular requirements from the general building regulations apply also for the glazing and any type of electrical installations. There might appear more requirements which need to be considered when building a conservatory in relation to the doors, windows and the electrics which are different, depending on the specifics of the individual cases.
It is also desirable not to build your conservatory in places which might limit the access with ladders to the windows, roof, any loft conversions, especially if there is a specific window which can serve as a place for escape in case of a fire in the house.
For any kind of structural openings, situated between the newly build conservatory and the old original house, you will have to receive special approval in accordance to the general building regulations. This applies also to cases when the conservatory is an exempt construction.
Even thought a conservatory might provide you with an extra useful space, if it is not designed correctly, your new extension might have a negative effect on your whole property. The best way to save yourself the complications is to build a separate conservatory from your house which also has a separate entrance which you can close or open during the day and night. You can also make your conservatory to be an important sunspace by building it as an extension to your house which includes a lot more insulation and glazing which is energy efficient.
Keep in mind that this guide is referring to the main regulations in England. For the planning regime in Wales and its differences, you better consult with the local authorities.
More information here and here.
The following guide should be regarded as an introductory and therefore it doesn't provide legal information.
You are strongly advised to get in touch with your local planning authority for a complete peace of mind. Make sure that all your doubts, concerning the project are disproved before taking any building actions.