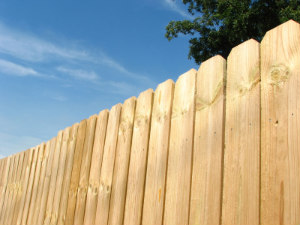 When you install a new fence there are many factors, from which depends whether you will need a planning permission for doing so. Some of them are the place, where you live, do you plan to install a completely new fence and the height of your fence.
If you ask your Local Building Authority you will receive reliable information whether you need planning permission and building regulation approval for the fence installation you intend to do.
Planning Permission
The Local Authorities are usually interested in the visual appearance of your fence and its main purpose. The neighbours will also see the plan of your fence installation and will say their opinion, which will be taken into consideration by the Local Authorities. You should apply for planning permission if you want to raise or increase a fence, which would be higher than 1 metre and close to a highway, used by vehicles or its pathway. You have to apply for planning permission if you fence is higher than 2 metres and is located elsewhere or if your right to uplift fences is being eliminated by an Article Four Direction or a planning condition.
You need to apply for planning permission if your property is a listed building or is in the curtilage of such building. In case your fence is close to or affects in some way a listed building, you should also apply for a planning permission. You need to apply for planning permission for your fence if it or any other border creates a bound with the adjacent listed building or its curtilage. It doesn't matter if the listed building needs renovation or not.
You should apply for a planning permission in situations, in which your fence is being lifted in a conservation area or some natural nature beauty resort, protected by the government with extinction species, like the World Heritage site, for example, but not only. You will also need a planning permission if your fence is in a close distance to a neighbour's estate and/or influences an already arranged Party Wall Agreement. If the fence installation you are planning is in violation of any of the fence planning permission regulations, as it is mentioned in the Party Wall Act from 1996, you should also apply for planning permission.
Regulation of other building projects
House Extensions
Loft Conversions
Conservatory Construction
Reroofing
Kitchens and Bathroom Refurbishment
Boiler installation and Central Heating
If the fence structure you plan to install, have some hanging ornaments or parts over a neighbouring party wall or a near traffic area, which is in violation of the Highway Act from 1990, you will also need a planning permission. The reason is that your new fence may hurt or put the nearby passers in risky and dangerous situations. Planning permissions are needed also in cases when your fence installation may lead to unjustifiable repairs and restorations of the neighbouring estates' masonry and grounds or rooting out big trees.
You will not need planning permission for removing and ruining a fence, changing it, keeping or making improvements in an already installed fence, without any significance how high is it, if you don't plan to make it higher. In a protected area the situation is a little different. For removing and throwing down a fence, you will need a planning permission, if the fence is located in any kind of conservation area. If you want to make some renovations or corrections in your fence, without increasing its height, you won't need to run for planning permission.
Building Regulations
The building regulations determine how the fence installation will be done so that it will be steady, safe and functional for its purpose for all adjacent buildings and passing people. Building regulations may be demanded even if a planning permission is not needed in some cases. It is not recommended to use barbed wire below two metres near a highway, nor are having spikes or broken glass in your fences, if you want to receive approving by the building regulations.
Most fence installations do not need applying for building regulations. The fence structures should be very stable and well maintained, though the building regulations are not necessary for them. If your fence structure doesn't have the necessary building regulations' approval, even if it may contravene to any guidance for your planning permission, you will still need to apply for your fence's planning permission.
Fence Materials and Maintenance
Although fences don't need applying for building regulation, they must be kept in a good condition regularly, so that the Local Authorities approve them. There is a large variety of materials, which you can use for your fence. Some of the most frequently used are wood, metal and PVC, though there are some other options. No matter what material you select, you need to take regular cares for keeping your fence in a well quality and steadiness. It should be safe for all passengers and neighbours in order not to create you problems. Wooden fences need the most maintenance work to keep them in good shape. They are sold previously treated, but will require painting and sealing again at least once a year to keep them resistant to different weather conditions like rain, sun, wind, snow etc. PVC and metal fences will only need cleaning, recovery and renovation work after some hard weather conditions.
More information here and here.
The following guide should be regarded as an introductory and therefore it doesn't provide legal information.
You are strongly advised to get in touch with your local planning authority for a complete peace of mind. Make sure that all your doubts, concerning the project are disproved before taking any building actions.