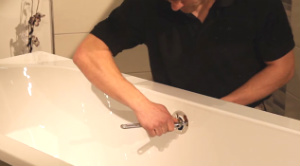 HomeMates provides all kinds of bathroom fittings, which will do the changes you want in your bathroom.
Whether you have a new bathroom, which you need to be installed with the necessary appliances, pipes and plumbing system, or need refurbishment of your existing bathroom, our services are the right choice for you.
We provide bathroom fitting services in London. Our services are done by professional plumbers, fitters and decorating specialists.
Our bathroom fitting service is only one of the professional building services offered by HomeMates in London and Greater London.
Contact HomeMates on 020 3745 4377 or at info@homemates.co.uk.
Building Services Prices
The prices can vary greatly depending on the size of the property and materials used. We strongly recommend to fill in the form or call us for a free quote.
Bathroom Fitting Services from HomeMates
What can you expect from our reliable bathroom fitting services:
Removing of old bathroom appliances and fixtures
Installation of new bathroom units: showers, bathtub, sinks, taps, lighting fixtures, etc.
Removing of tiles from walls and floors
Professional tiling
Repair and replacing of broken and cracked pipes
Creating and implementing of bathroom design of your choice
Our qualified plumbers, fitters and decorators will assist you create the bathroom design you want. If you want to have your old tiles removed from your bathroom and replaced with new, our decorating specialists will do this for you. They will create and implement the bathroom design you want and arrange the bathroom appliances in such a way, that they serve your needs. Your bathroom will be functional and stylish, if you rely on our employees do the bathroom fitting you need.
Profesisonal Bathroom Fitters London
You can use the bathroom fitting, which we provide to change the bathroom design in your home or create a brand new bathroom style. Our reliable and qualified plumbers will replace the piping system in your bathroom, removing all broken pipes with new ones. If you need professional wall and floor tiling in your bathroom, our decorating specialists can do this work very professionally.
Your new sinks, showers, bathtub, lighting fixtures and the rest of the bathroom appliances will be fitted in the most proper place. Your bathroom will be arranged and designed to suit your needs. The whole piping system will be removed and replaced with new, if it is necessary. The tiles and decorating in the bathroom will be done so that they will suit your needs and make your bathroom stylish and elegant. Our bathroom fitters are experienced and reliable. They will do the necessary installation and decorating work in your bathroom. Use our services, provided in London every day.