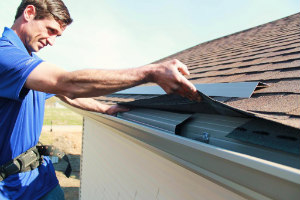 We are very organized company that can offer safe and fast implementation of the gutter installation in your home. All gutters have one basic important function and it consists in the collection and transportation of the water away from your property. However, there are always outer influences that can affect the best performance of the gutters.
The first important step consists in the assessment of the situation. The employees look at the condition of the gutters and decide what are the proper ones that need to be installed. The judgement is based on the easier conservation, water maintenance and of course on the type of the home. If the home has only partial gutters that would also be taken into consideration. The next step consists in giving adequate recommendation from the employees after observing the condition of the gutters.
Our gutter installation service is only one of the professional building services offered by HomeMates in London and Greater London.
Contact HomeMates on 020 3745 4377 or at info@homemates.co.uk.
Building Services Prices
The prices can vary greatly depending on the size of the property and materials used. We strongly recommend to fill in the form or call us for a free quote.
Professional Gutter Installation from HomeMates
Depending on the type of the property, they will recommend gutter system that will ideally suit the needs of the home. In this way we will try to prevent the home from damage of the foundation, a thing that often happens if the rainwater is not precisely handled. The final step consists in the real installation of the gutters by the technicians. The gutters are made in a special way, with the helpful hidden hangers technique that makes the gutters more functional. They will differ from the gutters that are provided by the handyman.
An important moment to point out is that before the technicians take up with the installation of the new gutters, they will first remove the existing gutter system in a really professional way. The procedures finish with a final inspection an checking for the properly functioning of the gutters. We guarantee that we will choose a gutter system that will transports the water in the best way.