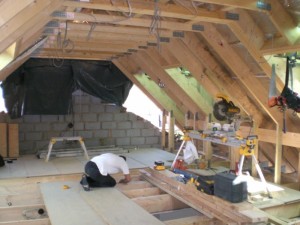 Professional loft conversion services in Barnsbury, N7 provided by HomeMates. Increase the living area of your house with our loft conversion service. Call now!
Do you constantly wonder where you can find a little more space for your new things? Perhaps the loft will make a beautiful room in which you can put all of your old and new possessions or which you can turn into a home gym or something else you need.
We can help you make this place more pleasant and cosy by performing one of our loft conversion services. They are a big hit in Barnsbury N7 and in many of the other areas of London.
Due to their affordability and effectiveness, they are a preferred choice of many Londoners. You can be one of them with the dialling of a simple phone number which you can remember for sure.
Contact HomeMates at 020 3745 4377 or at info@homemates.co.uk.
Building Services Prices
The prices can vary greatly depending on the size of the property and materials used. We strongly recommend to fill in the form or call us for a free quote.
Loft Conversion in Barnsbury from HomeMates
Our agency promises you:
Dependable group of professionals for the service;
Exceptional prices;
Top equipment of the most advanced instruments and technologies;
State-of-the-art loft conversion and more
Here is a list of all the services we provide in Barnsbury
The specialists of our company have great imagination which allows them to come up with amazing ideas for the changing of the loft in the properties of our clients in Barnsbury. They have done a lot of things in the past which gave them valuable experience. However, this is not always enough and our experts always look for a way to develop even further and improve their skills every chance they get. They will think of an innovative design when they perform the loft conversion in your property which will answer to your taste and of which you will approve.
Loft Conversion Services in Barnsbury N7
If you want to learn more about your options and about the professional loft conversion procedures of our company, call us as soon as you are ready. We won't refuse to meet with you in person as well because we think that this is the best way to communicate with our clients. We can show you part of the equipment which our employees use for the loft conversion, as well give you an advice about the materials and various other things that will be best to get for the renovation of your attic.
All of this and more you can receive by contacting our top professional agency right in Barnsbury N7. Our loft conversion offer will be ideal for you and the extension of your real estate property. only after you approve of our plans.