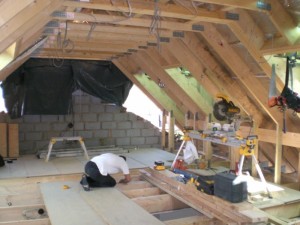 Professional loft conversion services in Canonbury, N1 provided by HomeMates. Increase the living area of your house with our loft conversion service. Call now!
If you want to have your additional space thoroughly renovated and constructed in a fast and ideal way, we are kindly offering you the services of our dedicated company that is situated in Canonbury, N1. We count on a team of cheerful and friendly workers who are very hard working and disciplined and we promise to offer you a wide range of options for your loft conversion.
Regardless of the time, we can make an arrangement with you and we will demonstrate you punctuality in every detail. We use modern approaches and innovative methods of working thanks to which we can make the atmosphere at your place cosy and inviting. From Monday to Sunday, contact us and we will send our staff as soon as possible.
Contact HomeMates at 020 3745 4377 or at info@homemates.co.uk.
Building Services Prices
The prices can vary greatly depending on the size of the property and materials used. We strongly recommend to fill in the form or call us for a free quote.
Loft Conversion in Canonbury from HomeMates
We guarantee that our loft conversion is professional and reliable and we take pride in collaborating with recognized specialists and architects. Take a look at our amazing offers and choose among the following things:
Dedicated and experienced staff
Organization of every detail of the loft conversion
Impeccable manners of working
Great diversity of designs for your room
Valuable advice from recognized architects
Very reasonable prices
Exceptional offers
No additional charges
Convenient working schedules
Here is a list of all the services we provide in Canonbury
We will demonstrate you willingness for work and our employees will be glad to hear all of the ideas for the loft conversion that you have. Our company provides consultations with recognized architects that will give you advice on the most suitable options for the design of the loft conversion.
The builders are trained enough to provide different procedures such as decorations as well as a wide range of construction work. Instead of taking up with everything on your own, choose the better option and leave everything into the hands of our committed team.
Loft Conversion Services in Canonbury, N1
Find us in Canonbury, N1 and forget about the preoccupations around the loft conversion. Thanks to our experience, we are able to offer you innovative and excellent approaches of working and we promise not to damage any of your surfaces.
Our prices are the most affordable ones for the loft conversion in Canonbury, N1 and we can come to inspect the condition of the place as soon as you contact us. To learn more about our outstanding offers, you can turn to the customer support centre that work 7 days per week to respond to all of your questions. In case you search for quality and professionalism in loft conversion, do not miss the chance to book it from our respected company.