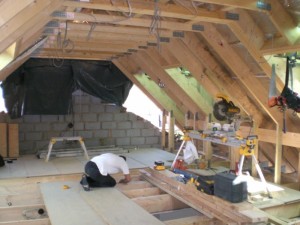 Professional loft conversion services in Dulwich, SE21 provided by HomeMates. Increase the living area of your house with our loft conversion service. Call now!
Based in Dulwich SE21, our company will give you an unforgettable loft conversion experience, the results of which you will enjoy for the many years to come. We are very sophisticated and well trained to do a job of this kind.
Our job is to advise you on your loft conversion, assess your attic, provide all the planning and manage the whole project. While we handle this, you can go on with your daily routines and enjoy your life without the headaches and stress you would experience if you did this on your own.
Contact HomeMates at 020 3745 4377 or at info@homemates.co.uk.
Building Services Prices
The prices can vary greatly depending on the size of the property and materials used. We strongly recommend to fill in the form or call us for a free quote.
Loft Conversion in Dulwich from HomeMates
We are fully insured, professional and qualified for this job and currently provide all our loft conversion services in Dulwich SE21. If you are interested to learn more about our agency, you can check out the information we provide below:
Our service is totally affordable, available and flexible
We guarantee peace of mind and comfort
Our team consists of experienced builders, installers, architects and managers
We are very flexible, results-oriented and hard-working
Consult our specialists to make the most of your project. Dial our contact numbers and get a free estimate right now to get things started as soon as possible.
Here is a list of all the services we provide in Dulwich
Don't be worried about the project when you have us by your side. There is no need to be concerned about the planning, design, building regulations and planning permission or your neighbours. We will work in such a way that only little effort will be involved on your part. Besides, we will try not to disturb your neighbours during the process. Meaning we will be as quiet as possible.
Loft Conversion Services in Dulwich SE21
During the process we will deal with things like drawing sketches, consultation and advice, installation, submitting of the plans for approval, calculating price, designing, building. We will consider your ideas and goals before we start planning. That way, our loft conversion service will be made to your taste.
We value our clients; they are the reason that our business keeps flourishing and we would do our best to give them not only the service they're expecting to receive, but also peace of mind. Hence, we will try our hardest to tailor our loft conversion to suit your very individual needs. That's why we will provide an initial discussion and consultation with you, which will help us get an idea of what you really want to achieve. Leaning on our company for such a project is definitely the best thing you can do if you reside Dulwich SE21.
How can we be contacted? It's very simple. Dial this number and they will put you through with our qualified assistants.