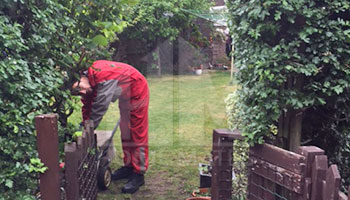 In case you search for reliable and customized gardening services in Dulwich, SE21, do not hesitate to turn to our dedicated company that offers excellent care for your lovely garden. For the purpose we collaborate with trained and organized gardeners who will come supplied with excellent and chemically free equipment. You can expect punctuality in every detail and complete commitment from our gardeners. Specially for our customers we have set affordable rates for all the procedures that we include in our gardening services. Should you need any further details, use our customer support centres where our friendly staff will respond to all of your questions.
Nick
has been working for our company for 3 years as a Professional Gardener. With 10 years experience in the field he managed to cover more than 3500 addresses.
Vesko
works for our company for 1 year already. As he is specialised in shaping the bushes, lawn mowing and grass cutting, he helps to numerous Customers to maintain their gardens on daily bases.
Gardening Services Dulwich from HomeMates
We successfully manage a gardening services agency which is magnificently situated in the well-known, commercially active Dulwich, SE21 area of London, and we serve a wide range of residential and commercial customers across the city. So, we regularly maintain a number of private lawns, backyards, and gardens. Similarly, we also maintain the grounds of many commercial properties and sporting facilities. If you are a commercial client and luckily if you own or manage a commercial property, you must be knowing about our role and importance for proper management of a commercial property since we take full care of the garden area.
If you have any enquiry or if you would like to get a quote, just give us a call on 020 3745 4377 or send us e-mail on info@homemates.co.uk!
Gardening Services Prices
We provide more services in Dulwich
You can trust our customized and qualitative gardening services, thanks to which you can restore the nice look of your garden. You can expect punctuality in every detail and friendly attitude from our comprehensive team of gardeners. We can provide excellent fertilising of the soil, as well as mowing and hedging of your garden. For the purpose we use high quality equipment of tools and substances and we assure you that we work in a careful manner and due to all the standards. Find us in Dulwich, SE21 and ensure the utmost care for your garden. We work 7 days per week to meet the requirements of all the customers.
Professional Gardening Dulwich, SE21
If you want local gardening specialists to take care of your small or large garden that might be located in any area inside London, then we are the providing company that is located close to the Dulwich, SE21, London region and supplies an extensive range of gardening services to Dulwich, SE21 and all locations across the London city. Our gardeners have specialised in jungle taming and other gardening procedures. No gardening related problem is too big for our gardeners to tackle and no garden is too overgrown to be taken care of – our experienced, disciplined gardeners are wise enough to well-maintain all types of gardens.