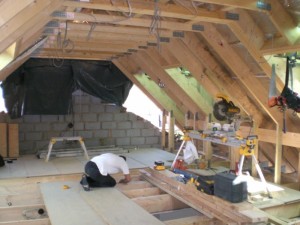 Professional loft conversion services in Eltham, SE9 provided by HomeMates. Increase the living area of your house with our loft conversion service. Call now!
We cover Eltham SE9 and we can schedule an appointment right away. Once we pay you a visit, we will assess your attic and have a discussion with you. All your requests will be considered. Dial our number to get more details.
If you need a cost-effective solution for your small house, trusting our company and loft conversion services is the best you can do. We have the finest equipment, our builders in Eltham SE9 are seasoned and motivated, and we use different methods to make the most of every project.
Contact HomeMates at 020 3745 4377 or at info@homemates.co.uk.
Building Services Prices
The prices can vary greatly depending on the size of the property and materials used. We strongly recommend to fill in the form or call us for a free quote.
Loft Conversion in Eltham from HomeMates
We offer the following:
Different types of loft conversion
Service adapted to meet your criteria
Attention to detail
Client-focused service
Fair prices
Here is a list of all the services we provide in Eltham
Not enough space? Why move? You don't need to be looking for a new home, you can simply extend you existing one. And if extension seems to be out of your price range, here we suggest our loft conversion: a cost-effective and efficient way to expand your accommodation. No hassle, no worries. Because our technicians are here to take care of every single detail regarding your service, such as planning, scheduling, designing, etc.
When you are considering the opportunity to expand your home, think about the possibility to have your loft converted by our specialists. No one will obtain better results than our trained experts whose experience speaks for itself. We can assure you there is no need to move house. A loft conversion service is a much more cost-effective option than anything else that may come to mind. It will ensure additional space.
Loft Conversion Services in Eltham SE9
We will manage your conversion thoroughly; from initial discussions to design, planning and decoration. We offer several types of loft conversion; some of them can provide additional headroom and floor space in the loft. We are professional to the core and we would like to reassure you we will handle the task the right way so that your new loft is liveable, functional and good-looking as well.
Hence, if you live in Eltham SE9 or around it, it will be wise to call us to book a service. We can meet and consult you on the changes you can make to your loft. Not only, this, but we will also have everything covered. Give us a chance.