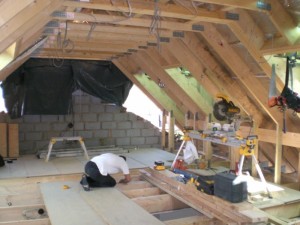 Professional loft conversion services in Hornsey, N8 provided by HomeMates. Increase the living area of your house with our loft conversion service. Call now!
Do you wish that you could turn that loft into a nice room for the whole family? With the affordable services of our excellent company from Hornsey, N8 you can transform this space into anything you want.
We have qualified employees who will turn the loft conversion into an easy task with great results. Our agency has the best prices in the industry and also the most innovative tools and various special instruments which will convert your loft in a couple of hours.
Contact HomeMates at 020 3745 4377 or at info@homemates.co.uk.
Building Services Prices
The prices can vary greatly depending on the size of the property and materials used. We strongly recommend to fill in the form or call us for a free quote.
Loft Conversion in Hornsey from HomeMates
We also offer:
Consultation with the best specialists in London;
Detailed inspection of the loft in your property by our experts;
Fast planning and organising of the loft conversion procedure;
Changing of every detail that you don't like in your new room
Here is a list of all the services we provide in Hornsey
Our professional services will radically improve your real estate property. Calling exactly our agency for the performance of a procedure like this will be the best decision. We have excellent equipment that contains everything necessary for the fast renovation of your home in Hornsey. You won't even have to spend a lot for the transformation of your attic because we offer perfectly reasonable price rates.
Loft Conversion Services in Hornsey, N8
We are the professional agency which will take care of the performance of the loft conversion in your real estate property. Because of the experience of our employees, we will be able to give you the results that you expect faster than all of our competitors. A simple procedures like the loft conversion could radically change the look of your real estate property, so we advice you to give it a try. We promise that you won't have to worry about anything at all because our team will make sure that everything is perfect. You are welcome to meet our specialists in Hornsey.
In our office you can ask our loft conversion experts anything you like and they will provide you with adequate answers right away. We invite you to book our top procedures for your home and finally make the renovations that you like. Our office remains open even through the weekends and the holidays, so don't hesitate to come and meet with our staff.