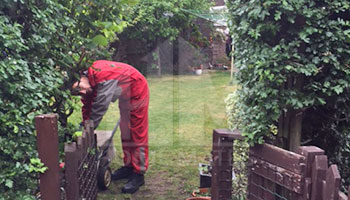 HomeMates provides various gardening services in Hornsey, N8. Our gardeners can offer you lawn mowing, hedge trimming, tree pruning and other gardening services.
Except with our timely services, our company is also popular with its affordable gardening procedures which have been number one in Hornsey, N8 for the last several years. They have been developed by our highly qualified experts who have a vast knowledge about the specifics of the gardening and know how to make every garden look great without a lot of efforts.
Nick
has been working for our company for 3 years as a Professional Gardener. With 10 years experience in the field he managed to cover more than 3500 addresses.
Vesko
works for our company for 1 year already. As he is specialised in shaping the bushes, lawn mowing and grass cutting, he helps to numerous Customers to maintain their gardens on daily bases.
Gardening Services Hornsey from HomeMates
Through our company you will discover how beautiful your garden can actually be by receiving from us:
First-class professional gardening services;
Excellent service which is usually very hard to find;
Top procedures which will change significantly your garden;
A variety of gardening procedures with fair prices;
A team of ambitious and hard-working gardeners
The goal of our professional company is to supply you with excellent gardening procedures which will help revive your favourite place. There are a lot of factors which could have a negative effect on your garden but we are familiar with all of them and know how to save your garden.
If you have any enquiry or if you would like to get a quote, just give us a call on 020 3745 4377 or send us e-mail on info@homemates.co.uk!
Gardening Services Prices
Here is a list of all the services we provide in Hornsey
A well-kept garden inevitably requires a lot of free time which not every person has. However, there is nothing to worry about because our specialists like to assist our customers with the maintenance of their gardens. As hard as it looks, there is nothing that our specialists can't handle.
Professional Gardening in Hornsey, N8
The freshening of your garden, the removing of the weeds, the picking and planting of the flowers can be our responsibility. We can save you all the work and directly give you the perfect results that you expect to see. Your garden will look much better after our employees are done with the performance of the procedure that you picked. The full list with excellent gardening services which our agency offers can be found directly in Hornsey, N8, where our official headquarters has been operating for the last several years.
Though our professional agency you will receive top gardening services which will make you enjoy the garden in your home even more. We let our clients choose the procedures they want, but if they can't decide on their own, we are also always ready to help. Our employees can give you their advice and share their opinion with you after they inspect the condition of your garden. You can give them a call early, so that they can look around and decide faster which gardening service your place needs most. Our specialists can be found as well in Hornsey, N8.