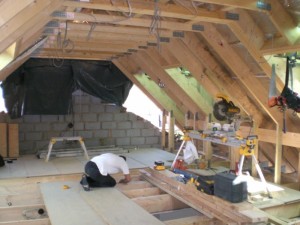 Professional loft conversion services in Raynes Park, SW20 provided by HomeMates. Increase the living area of your house with our loft conversion service. Call now!
Whenever people in Raynes Park want to provide extra space in their properties, they usually opt for our loft conversion services. We have a good reputation among Londoners and are known for our superior quality services. Our workers are very competent and experienced, you can be sure your loft is in good hands.
We have a very flexible work schedule and generally we are available during weekends too. You can reach us by phone or via e-mail any day of the week, anytime. Require more information about our loft conversion service from our telephone assistants.
Contact HomeMates at 020 3745 4377 or at info@homemates.co.uk.
Building Services Prices
The prices can vary greatly depending on the size of the property and materials used. We strongly recommend to fill in the form or call us for a free quote.
Loft Conversion in Raynes Park from HomeMates
Our company is the expert in Raynes Park, SW20 you need to turn your loft into a functional room. You can lean on us whenever you decide to undertake this project.
More about us:
We are punctual and professional
Our working hours are extended
We can provide a few types of loft conversion
Our call centre is available day and night
Here is a list of all the services we provide in Raynes Park
Loft conversion is a time-consuming process, so you should have patience. Of course, we will try our hardest to finish the project as fast as we can. It really depends on many factors and we will discuss this with you once we get to have a look at your loft. When we do, we'll have to determine whether you attic is suitable for such a project, make measurements, decide which type of conversion to use and prepare the tools and materials. We will begin work soon after that. We will work carefully and professionally to ensure that the new room is safe and functional.
Loft Conversion Services in Raynes Park, SW20
Turning your loft into living space has a number of benefits, especially if you use our company. This is one of the least expensive options when it comes to providing more room in the house. You attic can become a nice-looking and functional bedroom for your kids, office for your spouse or partner; an extra bathroom, playroom and whatever comes to your mind. You can even provide sleeping accommodation for your friends or relatives when they visit you during the weekends. Having an extra room is always a good idea and our loft conversion service can ensure the best results.
We recommend you use our teams of professionals for your loft conversion project in Raynes Park, SW20. They will happily discuss your options with you and give you further details on the matter. Get a free estimate over the phone now and we will schedule a meeting and consultation as soon as you wish. We are waiting for your call.