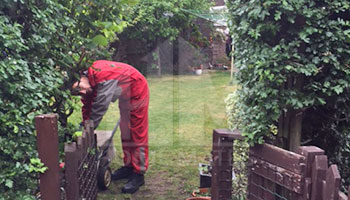 HomeMates provides various gardening services in Raynes Park, SW20. Our gardeners can offer you lawn mowing, hedge trimming, tree pruning and other gardening services.
We are professional gardeners who have been helping our clients to create and preserve their gardens through all seasons for years. When our clients can't take cares of the gardens in their properties, they call us and we handle it all.
Nick
has been working for our company for 3 years as a Professional Gardener. With 10 years experience in the field he managed to cover more than 3500 addresses.
Vesko
works for our company for 1 year already. As he is specialised in shaping the bushes, lawn mowing and grass cutting, he helps to numerous Customers to maintain their gardens on daily bases.
Gardening Services Raynes Park from HomeMates
Our company has been offering a variety of professional gardening services which:
Give guaranteed excellent results;
Save time while making your garden look great;
Have high quality and competitive prices;
Will give you the final results which you want to see
Our gardening specialists have their own professional technologies and different tools which will help them give to your garden the makeover it needs. You choose the gardening service you need and our experts will perform it for you.
What our company offers is always the best and all of our clients can confirm it. We are easy to find too, you just have to ask about us in Raynes Park, SW20. We offer many great procedures like pest control, weeding, flower planting and others.
If you have any enquiry or if you would like to get a quote, just give us a call on 020 3745 4377 or send us e-mail on info@homemates.co.uk!
Gardening Services Prices
Here is a list of all the services we provide in Raynes Park
For the creation of every garden, we always take into consideration the opinion of the clients. Every project is different and so are the wishes of our customers but we always manage to plan everything to the last little detail. This way we are sure that the effect of our gardening procedures will be fully satisfying for our clients and that they will appreciate the work of our specialists.
Professional Gardening in Raynes Park, SW20
Our gardeners operate every day, seven days a week, which is a guarantee that they will deliver the service you need on time. They have developed their own working techniques which allow them to be more flexible with the execution of the gardening services and finish their job faster. The excellent quality of their work doesn't change and in the end you will certainly have a healthy looking garden which doesn't contain pest, weeds and other harmful things. Our gardeners also give consultations in our company's office in Raynes Park, SW20, in case you have questions you want to ask.
You can find out the answers by meeting with the professional gardeners of our thriving agency in Raynes Park, SW20 when you go there. You can discuss with our employees the possible result of each of our gardening procedures and which one will be the best one for you and your case. You are welcome to learn more about us and our procedures by speaking to our gardening experts.