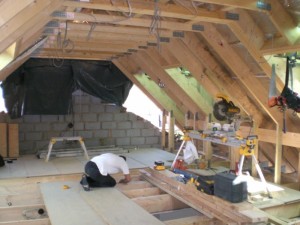 Professional loft conversion services in Richmond, TW9 provided by HomeMates. Increase the living area of your house with our loft conversion service. Call now!
If you want to increase the value of your home and accommodate it with more living space, we can offer you our loft conversion services. Our team of specialists will create the most suitable design for converting your loft into the additional room you need most.
Our engineers, builders, decorators and technicians will make the design of the loft conversion you need, according to your requirements and the loft space you have available.
Contact HomeMates at 020 3745 4377 or at info@homemates.co.uk.
Building Services Prices
The prices can vary greatly depending on the size of the property and materials used. We strongly recommend to fill in the form or call us for a free quote.
Loft Conversion in Richmond from HomeMates
If you rely on our team of specialist in Richmond, providing loft conversions, the results will be impressive. We can offer you:
Creating of the desired design of your loft conversion
Making computer graphics or drawings, illustrating the way your loft will look like after conversion
Applying for and receiving Planning Permission, if it is required
Decorating and building work
Doing the necessary electrical and plumbing installations and work
Turing lofts into additional bedroom, working room, living room or any other type of room
Dormer, Hip to Gable, Mansard and other types of loft conversion, available
The loft conversion will be done according to the customer's needs, requirements and the space he/she has available
They will also make sure you obtain your planning permission, if it is required. Use our excellent loft conversion services, provided in Richmond, TW9 every day in the week.
Here is a list of all the services we provide in Richmond
If you rely on our team of specialists to do the loft conversion you need, your old attic will be transformed into the additional room you need. This will increase the price of your home in case you decide to give it for rent or sale.
Our engineers, planning assistants, builders, decorators, plumbers and electricians will do the necessary innovations and installations to make your loft functional and accommodated. Call us and order the loft conversion you need and your attic room will be turned into the bedroom, living room or other type of room you need most. Our company is located in Richmond, TW9, where we offer our services.
Loft Conversion Services in Richmond, TW9
Our planning assistants will speak with you and visit your loft to understand your ideas and needs and estimate the options you have. They will offer you the best option for conversion that your loft has. Moreover, they will illustrate the loft conversion before starting work with drawings and computer graphics. If you approve the project, we can start work. Use our bespoke loft conversion services, provided in Richmond, TW9 any time you need them.