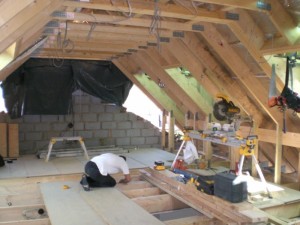 Professional loft conversion services in Stonebridge, NW10 provided by HomeMates. Increase the living area of your house with our loft conversion service. Call now!
Looking for a way to get more space at home? Maybe our loft conversion service will suffice for you. Situated in Stonebridge NW10, our company has a very good reputation in the city.
We are builders with significant experience, lots of skills and competences, and relevant knowledge who can completely transform your useless attic into a functional place. We are energetic, enthusiastic and have what it takes to be in charge of your loft conversion project. If you are planning to convert your loft, don't hesitate to look for us.
Contact HomeMates at 020 3745 4377 or at info@homemates.co.uk.
Building Services Prices
The prices can vary greatly depending on the size of the property and materials used. We strongly recommend to fill in the form or call us for a free quote.
Loft Conversion in Stonebridge from HomeMates
Check out our features:
Loft conversions made according to your personal preferences and planning constraints
Every project thoroughly discussed with you prior to beginning
Your loft assessed by true professionals
Team of builders, planners and architects available for every project
Here is a list of all the services we provide in Stonebridge
We know how expensive loft conversions can be, as they require structural changes. But we have made sure our prices can be afforded by residents of Stonebridge NW10. The conversion of an attic is the most straightforward and easiest way to creating additional space.
We carefully plan, schedule and carry out every loft conversion project. Before we begin the very process of converting, we do a few more things. First off, we assess the attic. Some attics are not suitable for conversion. Their pitch angle is too low or their structure does not allow for such an improvement. In that case, there is hardly anything we can do for you. But if the loft meets all the criteria and requirements, then we can proceed to planning.
Loft Conversion Services in Stonebridge NW10
We carry out a plan for the project to follow during building. The plan has to be submitted for approval by the authorities and, if necessary, permission is obtained. With this done, we can finally begin conversion. We do what's necessary to turn your loft into a useful and functional room. A number of qualified builders take part in the process. They have significant knowledge in this field and they are also very experienced. They are the best workers in Stonebridge NW10 with amazing skills and discipline. We believe you will be content with their work.
Once the project is done, you can enjoy your new room. We are convinced you will come to like what we have done for you. A brand-new, functional and cosy room that will allow more space for your family. If you are inetrested in using our service, make sure to get in touch with us.