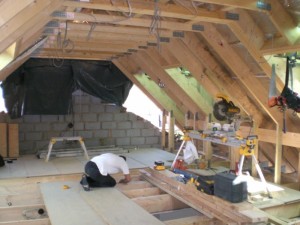 Professional loft conversion services in Streatham, SW16 provided by HomeMates. Increase the living area of your house with our loft conversion service. Call now!
Based in Streatham, SW16, our professional company executes low-cost loft conversion procedures that can't be compared to any others. They have quality which will amaze you and prices which are perfectly affordable for every citizen of London. They have been created for the purpose of giving a chance to those people who live in smaller real estate properties to find a little more space for their stuff or for their projects.
The loft conversion will be performed with professional machines and tools and only by adequate hard-working builders with experience. Make the reservation now and discover the many possibilities which your attic offers.
Contact HomeMates at 020 3745 4377 or at info@homemates.co.uk.
Building Services Prices
The prices can vary greatly depending on the size of the property and materials used. We strongly recommend to fill in the form or call us for a free quote.
Loft Conversion in Streatham from HomeMates
Our builders in Streatham will take the necessary precautions for the successful execution of the loft conversion procedure and they could be:
Emptying of the place;
Inspection of every corner;
Finding of the best strategy for the conversion of your loft;
Performing of the booked procedure within an appointed period
Here is a list of all the services we provide in Streatham
Our teams are experienced in the loft conversion and they can do it in pretty much all sorts of premises. Since every project and real estate property are different, our specialists with come up with a different plan. For this to happen, however, a team of our specialists needs to come to your address one day and look around. The inspection is important because it will give more information about the condition of the area.
Loft Conversion Services in Streatham, SW16
Every loft conversion our employees execute is with guaranteed five-star quality and effectiveness. The procedure is very desirable in London and every resident can benefit from it, if he or she needs it. We are also a very dedicated professional company which does everything to please its clients. We like to surprise our customers with perfectly performed loft conversion every time and the best part of everything is that we never overcharge our customers. Actually, we offer the most reasonable prices for loft conversions in Streatham, SW16 and in London as a whole.
Turn that loft into a nice and fully functioning room now by making a call to one of our specialists. They are available for calls through the entire week and they also give consultations to every client who needs one. Visit our headquarters and you will find our employees to be very polite and also competent on all matters which are concerning the loft conversion service. Meet them in Streatham, SW16 now and renovate your home promptly.