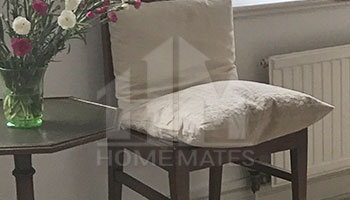 When you first started living with your husband we supposed that you declined his proposition to hire somebody that will help you with the cleaning and the rest of the household chore. You deemed it impossible to let some stranger come to your house and touch your furniture, dishes and clothes. Well, you know already know that this was a big mistake as it is really hard to keep everything as it should be without any help. So we propose you our house cleaning services and you can choose your particular cleaner and we ensure you that he/she will be the only one coming to your house. We are situated in Archway, N19, London but it will be easier for you if you contact us through the call centres.
Nedka
is in her early 50's and she is one of our finest cleaners. The saying 'Age ain't nothing but a number' defines her.
Daisy
is challenging herself in order to become an expert. She is practicing her skills on daily bases and do not accept anything but sparkling home.
Galina
is one of our brightest cleaners. Fond of household pets and children. Galina works quickly and up to a high standard.
Yulia
is a brilliant cleaner, who works quickly and catches on to each and every one of our customers' needs.
Home Cleaning in Archway from HomeMates
Our house cleaners are here to make your life easy. They are here to help you with the household chores without interrupting your daily activities, because we work when it is most convenient. They have professional attitude towards the work and what is equally important they are all nice and easy-going people whom you will be happy to welcome in your house. Find us in Archway, N19, or in whole London actually, because our cleaners are everywhere. For ordering a service or in case you have questions you can call the agents working in the call centres.
E-mail us at info@homemates.co.uk or call us on 020 3745 4377 and our customer care team will gladly explain you even the smallest details about our cleaning services.
Domestic Cleaners in Archway
Maybe you have thought many times about hiring house cleaners that will help you a couple of times during the week to execute all the cleaning tasks around the house. We know that you did not do it because you are stressed over the safety of your house. Our company guarantees you that we hire only trustworthy people who will be helping, not causing problems. You can find us in Archway, N19 and in every single part of Greater London. For additional information- do not hesitate to contact our agents, who will be happy to help you with everything they can.
HomeMates Cleaners Archway, N19
We have placed a cleaning company in London close to the commercially active region Archway, N19. Our company offers a wide range of house cleaning services to London residents who wish to use a professional house cleaning service to convert their untidy, boring home into a clean, lively, hygienic home. We are a leading residential cleaning service provider; we are based in London and gaining name and fame in London due to our outstanding house cleaning services, so, if you wish to avail a first-class house cleaning service, then make a contact with us and contract a domestic cleaning expert.