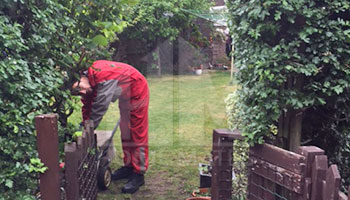 HomeMates provides various gardening services in Archway, N19. Our gardeners can offer you lawn mowing, hedge trimming, tree pruning and other gardening services.
We are a company which operates within Archway, N19 in London and which specialises mostly in the gardening. Our services are affordable and quite effective in all kinds of situations.
Nick
has been working for our company for 3 years as a Professional Gardener. With 10 years experience in the field he managed to cover more than 3500 addresses.
Vesko
works for our company for 1 year already. As he is specialised in shaping the bushes, lawn mowing and grass cutting, he helps to numerous Customers to maintain their gardens on daily bases.
Gardening Services Archway from HomeMates
You can be provided with one of the following services:
Lawn mowing;
Weeding;
Landscaping;
Hedge trimming;
Planting of different kinds of flowers;
Tree pruning and more
You just have to tell us what is your problem and we will think of a solution right away. Weeds, pests, organising – we can do it all because we have the best gardening specialists in London.
If you have any enquiry or if you would like to get a quote, just give us a call on 020 3745 4377 or send us e-mail on info@homemates.co.uk!
Gardening Services Prices
Here is a list of all the services we provide in Archway
Every gardening specialist who is part of the team of our company has a personal approach when performing one of our gardening services. This is how we can be sure that our clients will be able to enjoy results which are completely satisfying. After one call to Archway, N19 you will be already part of the list with clients of our agency.
Our gardeners have been training for a lot of years to gain the necessary experience which will make them qualified to perform perfectly every gardening procedure that the client requires. We have special weeding procedures, tree pruning, pest control, hedge trimming and more excellent options from which you are free to choose every day.
Professional Gardening in Archway, N19
Our employees will find the best approach for handling the renovation, creation or any other process that your garden needs. We will try to be as efficient and as fast as possible with the execution of the gardening service that you want. Our gardeners can help you with every problem and make your garden presentable once again. This will be a simple task for the experts of our agency who will certainly dedicate a lot of time to the completion of the procedure you've already booked.
We are the company which will make you the most tempting offer for gardening services the moment you call our representatives in Archway, N19. This is how you can get in touch with us and there is also another way, which involves a trip to our agency's office. You will have the opportunity to book the gardening service you want the moment you contact us. If you choose to come and visit us, we will also give you extra information about our gardening procedures and assists you with the picking of the best one for your garden. Call our agency and reserve the service you like.